How quickly things change: Arsenal have nothing to fear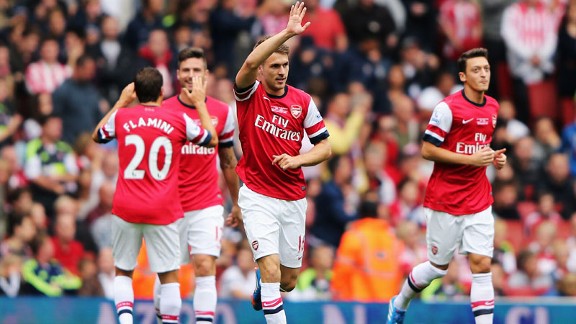 GettyImagesAaron Ramsey and Arsenal have made a flying start to the season.
Two seasons ago it seemed the gulf between Manchester United and Arsenal was insurmountable. They finished the league 19 points ahead of the Gunners and threw in an 8-2 spanking in a game that made Ashley Young look like a decent footballer and not an Olympic goal medal-winning high diver.

Arsenal had just lost Cesc Fabregas and Samir Nasri and, despite the impact of Arteta and Mertesacker, the signings of Benayoun, Park and Andre Santos looked unlikely to bridge the gap. Even last season, after Robin van Persie wrote the letter that meant the club had little choice but to sell him and Arsenal finished 16 points adrift with the Dutchman a key component in United's team, it looked as if it would take something special to close things up.

Or perhaps the loss of something special. And with Alex Ferguson's retirement that's what happened. If you're a fan of any other club he was not likeable at all, but his record was second to none. Indeed, he was the glue that held things together, the mechanism that made things tick at Old Trafford, and David Moyes, while still obviously settling into a new, high-pressure role, won't ever come close to being as good a manager as Ferguson.

Arsenal's 2013 summer was difficult and prolonged but the first thing they did well was not to lose any important players. There was a lot of talk about Bacary Sagna moving on. Some fans might even have encouraged it after an indifferent season, but he stayed and is a crucial part of the back four.

They added a defensive midfielder in Mathieu Flamini who adds aggression, stamina and Serie A know-how. They signed Mesut Ozil from Real Madrid and if you'd have put money on any English team spending 42.5 million pounds on a creative midfielder of that quality it would likely have been United. Oh, how they could do with him now.

As it stands, after an opening-day defeat to Villa, Arsenal remain unbeaten in the league, top the table by five points and have an eight-point gap over United. While it's still early days and there's a long way to go this season, it does make true the old adage about how quickly things change in football.

It's something fans of both teams should take note of: Arsenal fans who brag about their new-found position at the top, and United fans who have written off Moyes after just over a quarter of the season. But if you look at the squads now, there doesn't seem to be the gap in quality there used to be.

United have the edge up front with van Persie, Rooney and Hernandez, but in midfield there can't be a team in England with better options than the Gunners: Cazorla, Ozil, Ramsey, Wilshere, Arteta, Flamini, Rosicky. It's quite the lineup, and let's not forget they've been without Oxlade-Chamberlain, Podolski and Theo Walcott for much of the season.

The Arsenal defence is as solid as it has been in years. Two excellent full-backs, a centre-half pairing of Mertesacker and Koscielny as reliable as any in the league, and in Wojciech Szczesny they have a goalkeeper who is finally realising his potential. Perhaps we're finally seeing the impact of assistant manager Steve Bould; after a difficult beginning to their partnership, they look to have found a way to get the best out of each other.

To write a team like United off at any stage is foolish. They have the quality and experience that comes with winning season after season. That's not something that disappears overnight, but with the departure of Ferguson they've lost something of the fear factor. That bit extra that everyone knew he could coax/demand from teams that weren't up there with the best of his era but still relentlessly achieved result after result.

David Moyes doesn't have that. He won't ever have it, even if he achieves success as United manager. Now, after a cracking start to their Premier League campaign, fresh from a win against Borussia Dortmund in Germany, Arsenal have nothing to fear going to Old Trafford. Indeed, for the first time in quite a while, you get the feeling it might just be the other way around.