Arsenal's Euro status to be tested at Dortmund
When it comes to being media-savvy, few are better than Borussia Dortmund boss Jurgen Klopp.

After all, this is the guy who invited the English media over to Dortmund last week, held a press day to go on a charm offensive -- and all ahead of a Champions League Group match.

- Delaney: Klopp's flexibility may be edge for Dortmund
- Report: Walcott could return for United clash

That sort of preview coverage is normally reserved for finals, semifinals or huge games with a bigger relevance than Arsenal's tricky tie.

Klopp, who has said publicly he fancies managing in England one day in the future, said he that prefers watching Arsenal to Barcelona and that Arsene Wenger should be knighted.

Talk about buttering up the opposition. It's a nice tactic. But having beaten Arsenal at the Emirates a fortnight ago, do Borussia Dortmund really have to resort to such tactics?

The answer is clearly no. Dortmund, with Robert Lewandowski leading their attack and Marco Reus majestic in midfield, are a tough nut to crack.

They were last year's tournament runners-up, and they also have one of the best arenas and most passionate fans in Europe. The Westfalenstadion houses more than 80,000 and the atmosphere is hard to beat.

While some could see it as intimidating, Arsenal need to regard it as inspiring. Make no mistake, Wenger needs a result.

Arsenal are so reliable when it comes to qualifying for the latter stages of the Champions League. They are consistent, well-organised and seasoned campaigners. They are trying to make it 14 years in a row into the knockout phase. That's impressive.

Arsenal have not been genuine contenders -- arguably since they lost the final in 2006 -- but Wenger regards the competition as the acid test for any major European club.

It shows they are consistent in their domestic league by qualifying each year and are consistent against other European teams. They also share the stage and earn similar riches from being in the competition.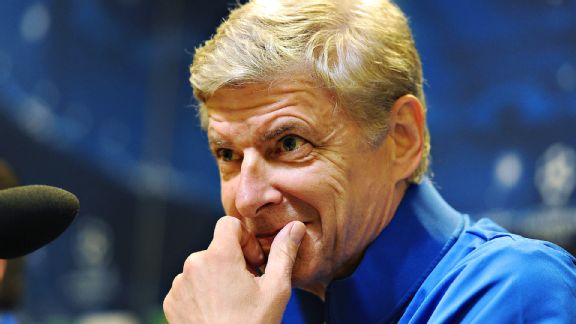 Stuart MacFarlane/Arsenal FC/Getty ImagesArsene Wenger is attempting to lead Arsenal into the knockout round of the Champions League for the 14th consecutive time.
That is why Wenger regards Champions League qualification and progress ahead of winning a domestic trophy. Some fans buy into it, others don't.

But now Borussia Dortmund have caught up on Arsenal. That goes the same for the Bundesliga on the Premier League. Judging by the fact that Bayern Munich won the Champions League last season in an all-German final, it shows the Germans have arguably long since overtaken English football.

That is why this is so important to Wenger. Defeat would leave qualification in serious danger. Arsenal want to lay down a marker -- to show they are still major players and to keep their momentum going.

They desperately need to keep form and results going ahead of their trip to Manchester United on Sunday. That's why Wenger will dig deep and take gambles if necessary to get the result they need.

Defeat to Dortmund a fortnight ago leaves Arsenal under the cosh. They must rise to the big occasion in the Westfalenstadion to produce another big European result. And to show that Klopp is right to still regard Wenger as one of football's leading lights.