Arteta showed his value against Liverpool
When Mathieu Flamini limped off the pitch at Selhurst Park after just a few minutes, many Arsenal fans were worried that his absence from the next game against Liverpool would prove costly.

It's not difficult to understand why. The Frenchman, while hardly a revelation as his style is well-known, has been in great form since his return to the club. He's added dynamism, energy and a bit of bite to the Arsenal midfield. He's a player the opposition views as destructive. He's not subtle, but what he does, he does very well.

Yet while doubts were reasonable enough, it seemed many had forgotten that in Mikel Arteta the Gunners have another excellent option at the base of their midfield. One of last season's outstanding performers, he'd been somewhat overlooked as Flamini caught the eye. Kind of like when a kid gets a new toy, that becomes the favourite, but it doesn't mean the old one is useless.

-Gnabry hails Wenger's influence
-McNicholas: Arsenal present convincing case
-Wenger eager to avoid complacency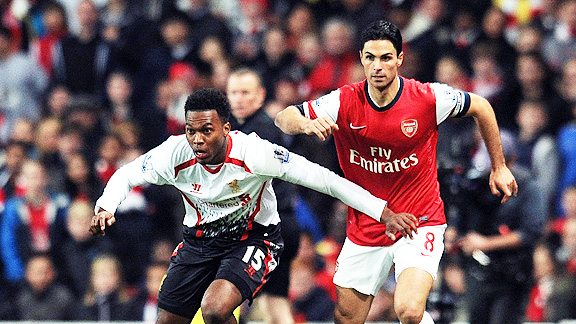 Andrew Powell/Liverpool FC/Getty ImagesA strong effort by Mikel Arteta, right, kept Daniel Sturridge and Liverpool off the score sheet Saturday at the Emirates.
Against Liverpool on Saturday, the Spaniard was instrumental in Arsenal's 2-0 win and performance. At the top end of the pitch, Olivier Giroud provided them with an outlet, allowing them to retain possession and keep the visitors under pressure. But in front of the back four, Arteta was brilliant on the ball, and off it.

He completed 100 of his 106 passes. Many were short, but he was the hub which much of the Arsenal play went through. His positional discipline was spot on, allowing him to make interceptions and break up play, and he made seven good tackles, most of them deep in the Arsenal half to stop Liverpool creating dangerous opportunities.

It might not have been as combative as a Flamini performance, but it was no less effective. It's also worth nothing Arteta played a key role in the first goal, setting Bacary Sagna free down the right-hand side and it was from his cross that Santi Cazorla eventually scored.

It's a credit to Arteta that he has, since joining Arsenal, adapted his game so successfully. At Everton he was deployed much farther forward, as a creative, goal-scoring midfielder. Under Arsene Wenger, he has moved farther back, and the Arsenal manager saw something in him that few others did.

His composure and eye for a pass, his retention of the ball and ability to use it under pressure -- qualities he'd learned higher up the pitch -- could be combined with good reading of the game and a defensive nous that many players just don't have.

He's solid in the tackle, uses his body well, and is experienced and clever enough to know when to foul, or when to make it obvious that he's the one who has been caught. Moments like that ease pressure on a team, and Arteta's intelligence and awareness are an important part of what Arsenal will do this season.

What's fantastic for Arsenal fans is that they now have an option. If Arteta was absent last season, there was no natural replacement. This season there's Flamini. And in games when the midfield battle is likely to be intense, Wenger has the luxury of being able to play them both.

The Spaniard's performance against Liverpool was a reminder that he's got a big role to play throughout this campaign, and those who were consigning him to second string ought to think again.