Defensive discipline to stop Sturridge and Suarez
It feels like it's been a long time since an Arsenal versus Liverpool game was a top-of-the-table clash.

When I was a kid, they were perpetual champions -- relentlessly good and so hard to beat. Nowadays, that's not the case. Arsenal's 1989 title win broke that cycle, and perhaps something deeper at the heart of the club. Although the Anfield side won the league again in 1990, they haven't since -- a long time for a team with such an illustrious history.

- Report: Arshavin critical of supporters

This season is still in its early stages and while there's no doubt Brendan Rodgers' team look far more effective overall, they look especially strong up front. It's interesting that both Luis Suarez and Daniel Sturridge have reputations as individualists. At each of his former clubs, Sturridge's decision-making always left a lot to be desired. If he could shoot, he would, no matter whether there was a teammate in a better position.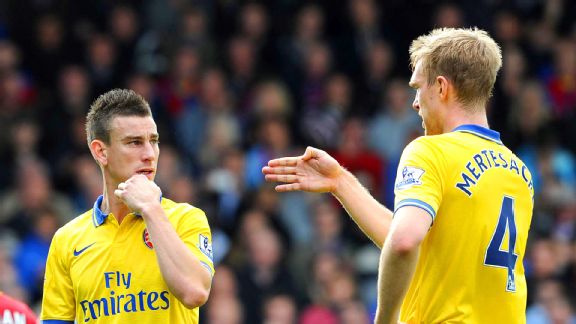 David Price/Getty ImagesArsenal centre backs Laurent Koscielny, left, and Per Mertesacker will have their hands full on Saturday in trying to stop Liverpool's dangerous duo of Luis Suarez and Daniel Sturridge.
Suarez, as we know, is a fantastically gifted footballer despite everything else that comes with him, and the variety and quality of the goals he scores is almost second to none in the Premier League. He and Sturridge seem to have worked out a way to play together, which is remarkable when you consider they haven't had that much time to form a partnership. The former Chelsea man arrived in January and Suarez was suspended from April until October for his cannibalistic chomping of Branislav Ivanovic.

Now they have 14 league goals between them and they present the biggest offensive threat that Arsenal have faced so far this season. The Gunners' back four has been very solid this campaign. Per Mertesacker and Laurent Koscielny have formed a fantastic partnership at the centre of the defence and they're flanked by Bacary Sagna and Kieran Gibbs, two of the most consistent full-backs around.

Behind them Wojciech Szczesny is maturing into the goalkeeper many hoped he would become. His renewed focus since being very publicly dropped has resulted in an improvement in his performances, and as he showed against Crystal Palace last weekend, he's making saves that win games.

However, as good as they are, the unpredictability and quality of the Liverpool front two still presents a big threat. So Arsenal's tactic when they don't have the ball will be to restrict service to them as much as possible. It seems likely they'll be without the destructive, dynamic Mathieu Flamini, but in Mikel Arteta they have a very effective performer at the base of their midfield.

With Aaron Ramsey's engine they'll have plenty of energy and bite in midfield, but there will also be an onus on Arsenal's wide players to get back and do their defensive duty. And this is where Arsene Wenger needs to find the balance.

Santi Cazorla is fit again, and the more he plays the more likely he is to rediscover his form. The Spaniard was a necessity for Arsenal last season, but since the arrival of Mesut Ozil, there is somebody to share the creative burden and that gives Wenger the chance to look at other options. Tomas Rosicky may well start, continuing a ploy the Arsenal manager has used in recent games against big sides -- deploying a high-energy midfielder to press and harry the opposition high up the pitch.

Also, while Liverpool are strong in the final third, their weakness is certainly the defence. They've been bolstered by the signing of Simon Mignolet, who is more solid than Pepe Reina was for the last couple of years, but Arsenal will fancy their chances against a Liverpool rearguard that still looks vulnerable at times.

They have to cut out the individual errors that cost them games against Chelsea and Borussia Dortmund. That self-destructive streak hasn't been seen for quite some time, and Wenger will be hoping it's something they've got out of their system ahead of the Liverpool game, not to mention the return leg against Dortmund and a trip to Old Trafford next weekend.

It is one-game-at-a-time territory, and these are fixtures that will tell us plenty about this season's Arsenal, but first they have to get it right against Liverpool. Keep out Sturridge and Suarez and they've got enough firepower of their own to take the points.