Arsenal fans were wrong to boo Nicklas Bendtner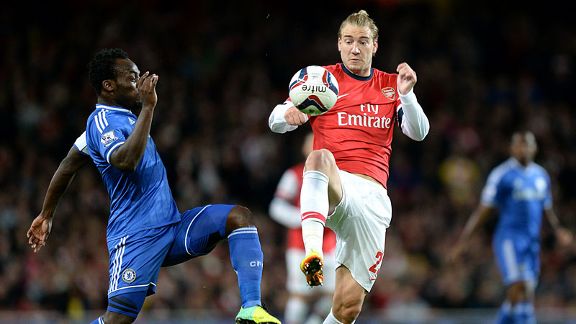 PA PhotosArsenal's Nicklas Bendtner in action against Chelsea in the League Cup.
As the number 23 went up on the substitution board, ironic cheers mingled with genuine boos. The noise may have emanated from a minority, but it was a sizable one. As Nicklas Bendtner trudged dejected from the field, he attempted a deflective smirk, but couldn't fully mask his pain. This was precisely what he had feared.

When Arsenal's deadline day move for Demba Ba collapsed and Bendtner was forced to remain with the club, he issued a carefully crafted statement outlining his determination to win over the fans.

- Mangan: Arsenal must re-focus

For a time, that seemed to buy him some goodwill. When Bendtner was introduced during the recent Premier League match with Norwich, he was greeted by jubilant cheers. Bendtner played well, too: only a fine John Ruddy save prevented him from scoring. The collective gasp from the Arsenal faithful as Ruddy palmed his shot away showed they were right behind him.

Of course, on that day Arsenal were winning. The fans had been treated to some scintillating attacking football, and there was a party atmosphere around the ground.

Tuesday night's match with Chelsea was an altogether more sombre affair. Once Arsenal fell behind after a calamitous defensive error, the mood began to darken. As the storm of discontent thickened, Bendtner emerged as an unsurprising lightning conductor.

The Danish forward played poorly. His hold-up play was feeble and his touch erratic. However, this was a listless Arsenal team, and Bendtner was starved of supply. There were others alongside him who were just as bad, and yet escaped public censure. The truth is that Bendtner's barracking has been brewing for some time.

It's not the first time an Arsenal player has met with the wrath of the Emirates crowd. In recent years, the likes of Emmanuel Eboue and Andrey Arshavin have also fallen foul of the Arsenal faithful. In all three instances animosity has built over time. Bendtner has a reputation for being lazy, greedy and over-confident. In September 2011, he set fire to his bridges with the club, claiming he would never play for Arsenal again. There is plenty of history there.

However, it is merely that: history. For better or worse, Bendtner is an Arsenal player now. The club's failure to recruit another forward means they have no choice but to turn to the Danish international. That is Arsene Wenger's fault rather than Bendtner's.

After the game, Wenger was reluctant to discuss Bendtner's struggles. He told the assembled journalists: "I do not want to go into the individual assessment of the players in the press conference. I leave that between the player and myself."

Of course, that's patently untrue. Wenger is often happy to discuss the brilliance of Mesut Ozil or the rapid rise of Aaron Ramsey. He is shielding Bendtner from public criticism because he knows his performance was below-par.

Bendtner knows too -- and he didn't need the heckles of the fans to tell him. Supporters justify their jeering by suggesting that Bendtner doesn't try, but that seems improbable. He has everything to gain. After failing during a loan spell with Juventus, he must be acutely aware that this is his last chance at an elite club. His contract with Arsenal expires at the end of this season, and every minute on the pitch is an opportunity to prove himself, either to Wenger or, as is more likely, another potential suitor.

He will have been as disappointed with his performance as anyone. There was a telling moment during the second half when he received a pass inside the Chelsea penalty area. There was an opportunity to turn and shoot, but instead Bendtner opted to lay the ball back into the path of the in-form Ramsey.

The crowd bayed their frustration, but replays suggested that it was a smart pass from the Dane. Had Ramsey got a shot away first-time, Arsenal could well have equalised.

What's more, these were not the actions of a fundamentally selfish player. Bendtner is renowned for his overblown self-esteem, but in deciding not to take the shot on he demonstrated a growing humility. Perhaps he's even lacking in confidence as well as fitness and form. He needs encouragement, not abuse.

Arsenal are just one injury to Olivier Giroud away from having to call upon the Dane regularly. It's not an ideal situation for either party but, at least until January, Arsenal need Bendtner. The sooner the fans realise that and get behind him the better.