Arsenal go out of cup, must re-focus for next few weeks
Arsenal went out of the Capital One Cup on Tuesday night, going down 2-0 to a Chelsea team that more or less deserved the win.

There were changes from both sides after their weekend games. But while the Gunners could boast the likes of Aaron Ramsey, Santi Cazorla and Jack Wilshere, they were let down by the some of the fringe players who really struggled.

-Flamini to miss key fixtures
-Wenger plays down tensions with Mou
-Fellaini: Arsenal wanted me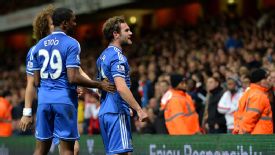 APJuan Mata celebrates his superb strike that made it 2-0 against Arsenal.
Right back Carl Jenkinson gifted Jose Mourinho's side the opening goal of the game. His weak header back to Lukasz Fabianski was too short, and his opposite number, Cesar Azpilicueta, nipped in to poke the ball home. It was poor defending from the young Englishman who, despite the fact he hasn't played often this season, should be better than that at this stage.

Wide on Arsenal's right, Ryo Miyaichi looked a long way out of his depth, while up front Nicklas Bendtner looked every inch the player that Arsenal have been trying to sell for the best part of three years. That said, he didn't deserve the boos directed his way when he was replaced by Olivier Giroud.

As a team, Arsenal failed to really create and he got little change out of David Luiz and Gary Cahill, so to single Bendtner out seemed unfair. The worry, of course, is that if anything does happen to Giroud, then Bendtner is the only option Arsenal have right now. Giving him a hard time seems counter-productive. Arsenal may need him before they get players fit again, and there's no guarantee the club will make any January transfer window moves for a striker.

To be fair to Arsene Wenger, even though he does have an extremely difficult couple of weeks coming up, his team selection was hardly waving the white flag. He's also without players who could have made this a more interesting game. An Arsenal lineup with Theo Walcott, Alex Oxlade-Chamberlain and Lukas Podolski might have been more effective, but even so, the introductions of Giroud and Mesut Ozil failed to change the game.

Juan Mata's fine goal more or less sealed it for Chelsea, and with their experience they were happy to soak up the pressure and see the game out. It also seemed as if the Gunners were aware of what's to come. Liverpool on Saturday, Borussia Dortmund next week, followed by a trip to Old Trafford the following weekend. Extra time didn't seem that inviting a prospect and it showed as the game drew to its conclusion.

Arsenal, after three fairly unconvincing performances -- with the Crystal Palace win sandwiched by defeats to Dortmund and now Chelsea -- are going to have to work hard to find some of the form with which they've started the season. The next few weeks are crucial to their Premier League and Champions League campaigns, but if they get the right results, this Capital One Cup exit won't be dwelt on one little bit.