Szczesny hands victory to off-key Gunners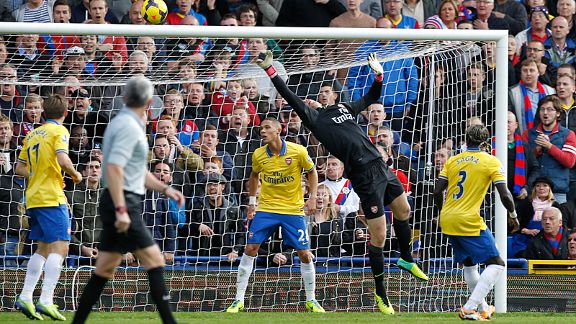 GettyImagesWojciech Szczesny makes a brilliant save to keep Arsenal ahead.
They say that one of the signs of a genuine title contender is that they can win games when they play poorly. And Arsenal's 2-0 win over Crystal Palace on Saturday is one that certainly fits into that category.

Having been so fluent in the attacking third all season, it seems as if the magic has deserted them a little bit. The Gunners struggled to click against Borussia Dortmund in midweek, and despite the obvious gulf in quality between the two sides at Selhurst Park, it was more of the same.

- Three things: Crystal Palace 0-2 Arsenal

The zip and quickness of movement was nowhere to be seen. In fact, it was the home side who had the best openings of the first 45 minutes, with former Arsenal striker Marouane Chamakh guilty of spurning a fantastic chance to put Palace ahead.

Plenty of possession for the visitors, but little in terms of a cutting edge.

The second half began brightly when substitute Serge Gnabry -- on for Mathieu Flamini, who picked up a groin injury after just seven minutes and could be out for two weeks -- won a penalty which Mikel Arteta converted to put Arsenal ahead, but the Spaniard was then harshly sent off for a foul on Chamakh. Replays show that Chamakh was the one who made contact with Arteta, rather than the other way around.

That the "foul" happened about 50 yards from goal was bad enough, but the idea that Chamakh, that far from the target, had a clear goal-scoring chance was lunacy from referee Chris Foy. As the Moroccan showed earlier in the game -- and over the past few years -- he could be two feet from goal, with no goalkeeper or defender within a hundred yards of him, and only the world's greatest optimist would call it a clear goal-scoring chance.

That one-man deficit allowed Palace to get back into the game, and only for some amazing goalkeeping from Wojciech Szczesny, they might well have got an equaliser. He made one fingertip save which led to a corner, and moments later pulled off one of the best saves you're likely to see this season.

It was his punch from the corner that fell to Mile Jedniak just outside the Arsenal box. The Palace man volleyed it perfectly toward the top corner but Szczesny, with Olivier Giroud in his way, backpedaled and got a strong hand on it to prevent the equaliser. On such moments are games won and Arsenal have their keeper to thank for Saturday's result.

Although brilliant play from Aaron Ramsey created the game-clinching goal for Giroud, Szczesny's save will rightly be seen as the difference between the two sides. The Pole's recent form has been excellent. He's flying under the media radar a bit, which is probably no bad thing, but he's proving that Arsene Wenger was right when he decided to stick with him this summer.

Ultimately, the result is all that counts, and while Wenger will certainly be concerned that his team failed to click against a side like Palace, he can take comfort from the fact they sit very nicely at the top of the league.