Arsenal must avoid letdown at Selhurst Park
The fixture list makes for tough reading.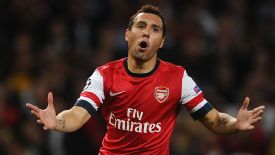 PA PhotosSanti Cazorla reacts to his shot striking the crossbar against Dortmund.
Chelsea in the Capital One Cup, Liverpool at home in the Premier League, Borussia Dortmund away and then a trip to Manchester United.

Spotted the odd one out? Yes, it is Crystal Palace at Selhurst Park on Saturday. And it would be dangerous to disregard it as easy pickings.

Palace have parted company with Ian Holloway, have Keith Millen as caretaker boss and a set of players who will probably be more interested in playing for the new boss.

It could be a game where Arsenal have a danger of slipping up. The bookies have Palace at 7/1, a draw at slightly shorter odds and Arsenal at red-hot 4/11 odds-on favourites.

The last time I can remember Arsenal being such favourites and the home team being rank outsiders ended up with Arsene Wenger losing at Norwich last season.

- Wenger on player exits, Holloway, Fergie
- Darke: Do you believe in the Gunners?

Arsenal need to dig out a strong response at Palace after losing 2-1 at home to Borussia Dortmund in the Champions League on Tuesday.

They played pretty well against Dortmund, but missed Mathieu Flamini's midfield discipline and ability to shield the back four.

Flamini is fit again, but Jack Wilshere is in injury doubt, which may be a blessing since it is hard for Wenger to fit all his players in the team at the moment.

They could do with getting Theo Walcott's pace back as quickly as possible and Lukas Podolski, as back-up for Olivier Giroud, would be a welcome return.

But now, it is finding the right balance in midfield. I am convinced Flamini and Mikel Arteta are the right foundation for the team to make up the 2 in Arsenal's now-favoured 4-2-3-1.

But then you have all sorts of options. Santi Cazorla on the left and Aaron Ramsey may fill in on the right until Walcott's return.

Arsenal, however, will have to be at their best at Palace and with determination to bounce back. You cannot afford a slip up in a game that could easily be taken for granted.

Then it's Chelsea in the Capital One Cup and the chance to go on the road to silverware. Arsenal need a trophy, as Wenger also looks to keep the fans happy before committing himself one way or the other on a new contract.

They need to send a message to the rest of the Premier League with big results against Liverpool and Manchester United, and they need a point from Dortmund or Napoli in the Champions League.

They need to show their early-season form is not a flash in the pan. Beating Liverpool would be a big statement. Winning at Old Trafford, no matter United's poor start, is even bigger.

But do not get distracted about games ahead. Palace is the here and now. And they must win.