Arsenal a touch naive to drop a valuable point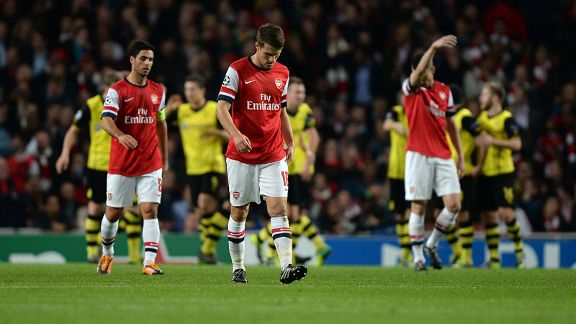 PA PhotosArsenal lost to a late goal from Borussia Dortmund.
Arsenal's 2-1 defeat to Borussia Dortmund on Tuesday night throws Group F wide open with three teams on six points.

The Gunners can consider themselves a touch unfortunate to have lost a game in which neither team dominated, but in pushing for a winner late on, they were caught on the break and punished devastatingly by Robert Lewandowski.

There's a question as to whether or not the Polish international should even have been on the pitch after a straight arm to Laurent Koscielny's face in the second half. More often than not it's a red card offence, but Lewandowski only received a yellow, and he was saved by the fact the Frenchman didn't resort to histrionics. It's a moot point, however, as his goal took three vital points for Jurgen Klopp's side.

- Delaney: Three Things - Arsenal v Dortmund

Arsenal, it's fair to say, never reached the heights of recent performances and looked sluggish from the off. An Aaron Ramsey error led to Dortmund's 16th minute opener before Olivier Giroud equalised shortly before half time. And as the second half progressed, and they pushed for another goal, they looked most likely to score again.

Santi Cazorla hit the corner of the crossbar with a fine effort, but clear cut chances were few and far between. Too often, Arsenal looked to force the issue, trying the ambitious when the simple might have been better. That it took so long for them to build any real momentum came down to poor passing and decision making.

Simple options were eschewed for the more spectacular or difficult, when simply keeping the ball would have allowed them to put more pressure on the German side. Players such as Mesut Ozil and Ramsey, who have shone in recent weeks, struggled to impose themselves on the game, and it was the likes of Mikel Arteta and Koscielny who stood out for their defensive work.

Still, perhaps there's a lesson to be learned for Arsene Wenger's men. What works so well against the likes of Norwich isn't as effective when you face opposition of much greater quality. And nobody should be under any illusions that Dortmund are anything but an excellent side.

But while there is some onus on Arsenal to go for it at home, and there's a confidence in the side borne out of the excellent results, they really shouldn't have been caught out the way they were for Lewandowski's goal. It's not the Arsenal way to play for a point, but sometimes it's sensible not to go for a game you don't look particularly like winning.

An acceptance that a draw would be a good result more or less ensures you don't get stretched the way they did, and questions do have to be asked as to why the Pole had all that time and space to apply the finish. Part of what has made Arsenal so effective this season is the fact everyone has been switched on defensively. Clearly, in this case, somebody wasn't.

So, after Napoli's win against Marseille, this is a group that's now beginning to live up the "group of death" billing. It might be hyperbolic, but Arsenal now have to go to Dortmund and Naples and get something from those games to qualify.

It's hardly beyond their ability, and perhaps Tuesday night is a game they can step back from, learn some lessons and apply them accordingly when those fixtures arrive.