Gunners team no longer easy to pick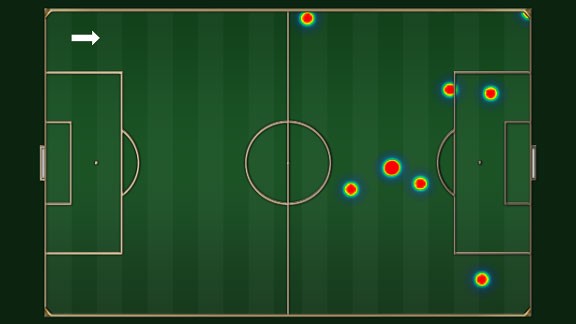 Other / ESPNA heat map showing Santi Cazorla's assists for Arsenal in the 2012-13 Premier League season.
Although Santi Cazorla has returned to full training and is back in the squad for tomorrow's Premier League clash with Norwich, Arsenal fans probably will have to wait a little longer to see him line up alongside Mesut Ozil.

The Spaniard probably will start on the bench, with Arsene Wenger concerned about "match fitness." Of course the only way to get that is to play, and a second-half introduction, having not made an appearance since the 1-0 North London derby win on Sept. 1, is the most likely scenario.

When he does get on, he'll provide an option in the wide areas, something the Gunners have been slightly short on in recent games. Although Serge Gnabry was impressive against Swansea, Wenger prefered to use Aaron Ramsey on the right-hand side against a more pugnacious West Brom side. Jack Wilshere, as we know, has been used on the left, so Cazorla's return is welcome.

In the centre of midfield he's got a decision to make with regards to Mikel Arteta and Mathieu Flamini. Away from home, against more difficult opposition, deploying them both blunts Arsenal's attacking edge a bit, but provides a very strong defensive platform. At home, against a team sitting in the bottom three, it seems much more of an either/or situation.

And in the back of Wenger's mind will be Flamini's yellow card situation. Since he made his return to the side against Spurs he has picked up four bookings. Another one will see him miss a game through suspension. Arsenal's next Premier League game after Norwich is against Crystal Palace, another side that have been struggling this season. Another booking tomorrow and he misses that fixture.

The more pressing engagement with Liverpool on Nov. 2 is a game he would not want to be without Flamini for, but even if he makes it through tomorrow without a caution, a booking against Palace would see him serve his suspension for the Capital One Cup tie against Chelsea -- a game he's unlikely to play in anyway. Don't be surprised to see him pick up a cheap yellow at some point in the next two games -- if one isn't already forthcoming due to a typically combative tackle.

Depending how how Wenger wants to set up his team tomorrow, bearing in mind he's got a Champions League tie against Dortmund in midweek, we could see him use Gnabry and Rosicky in the wide positions, leaving him to choose between Arteta, Flamini, Wilshere and Ramsey for two midfield positions.

The interesting thing about Arsenal this season, particularly in midfield, is that it's no longer easy to predict who'll play. The options they have in this area of the pitch are as strong as anyone in England, but I suspect the manager might just have an eye on the midweek fixture.

That's not to say he'll be underestimating Norwich in any way. Their league position may look bad, however in reality there are only four points separating 18th and eighth. But Wenger knows Dortmund will provide a much sterner test in the Champions League, and after an international break, he may want to give some tired legs a bit of time to recover ahead of that game.

As I wrote earlier this week, Arsenal are well placed to pick up where they left off, even with some rotation. They'll expect three points from the Norwich fixture, and the way they've been playing so far this season, you wouldn't be against it.