Gunners well-equipped to keep firing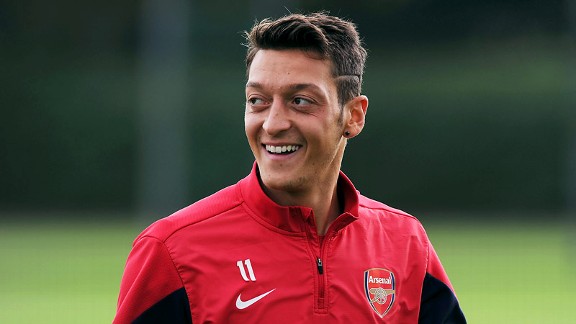 Stuart MacFarlane/Arsenal FC/Getty ImagesMesut Ozil is one of the big reasons for Arsenal's fast start, though his injury sustained in Germany's World Cup qualifying match Tuesday is a new Gunners concern.
After an break that has seemed interminably long at times -- particularly if you have no interest, vested or otherwise, in the international game -- Arsenal now face a glut of fixtures as they look to pick up where they left off.

Sitting top of the Premier League, and their Champions League group, they're in good shape, but the frequency of the games and the quality of the opposition will really test them.

Seven games in 21 days -- across three competitions -- will see Wenger's men pushed to the limit as they attempt to continue their best start to a season since 2007-08. In the Premier League they face high-flying Liverpool and a Manchester United side who, despite enduring a difficult campaign thus far, contain the experience and talent to get themselves back on track at any time.

- Ozil hurt in Germany victory
- Kroenke facing tough shareholder meeting

In Europe there are home and away matches against Dortmund as they face Jurgen Klopp's mercurial side in games that could decide or throw open the group, and in the Capital One Cup there's the small matter of Chelsea when they visit the Emirates at the end of this month.

On paper, Arsenal's start to the season has been relatively kind. Without wishing to play down what they've done -- because 10 wins and a draw from 11 games is fantastic form -- you get the feeling that the next few weeks will give us a real measure of where they are and what they're capable of.

There should be a good level of confidence among players, and fans, that they can come through this tricky period well. They've found a nice balance between defensive solidity and attacking verve. The midfield is packed with options, and they've built some really good momentum.

Although Arsenal have been winning, they've showed plenty of character already this campaign. The visceral reaction to the opening-day defeat to Villa put them under serious pressure and was followed by the aforementioned unbeaten run. Even when the chips were down against West Brom, and the team wasn't able to perform to the high level of previous games, they dug deep and crafted an equaliser. In previous seasons that was the kind of game that they'd let slip.

Getting players back from injury will be important. Any squad in the Premier League would love to have Santi Cazorla, Theo Walcott and Lukas Podolski at their disposal, but it's crucial for Arsenal beyond the fact that it provides more options and greater quality on the pitch.

Having to use the same players without respite causes fatigue, and fatigue causes injury. If there was a trophy for having the most players out for the longest time, the club wouldn't have been pot-less for so long. It's something they've got to be mindful of.

However, when they get those players back, and if they find the right balance in the side, they'll be in very good shape indeed.

Norwich come to visit on Saturday, another relatively manageable fixture, and another three points there should set Arsenal up nicely for what's to come in the next few weeks.