Arsenal continue to share tradition with the fans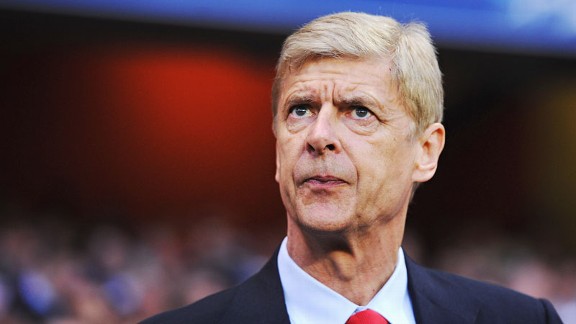 Michael Regan/Getty ImagesArsene Wenger will address the audience at Arsenal's AGM.
Arsenal became popularly known as the Bank of England club during Herbert Chapman's reign of the 1920s and 30s.

Until recently I thought it was purely because they represented tradition and were the most English of English football clubs: Highbury's marble halls, heritage -- a real sense of history surrounds the club.

But under the Chapman reign, the most successful manager in Arsenal's pre-war history, and under the chairmanship of Sir Henry Norris the club had to be guided into a new era.

In 1913, the move from Woolwich to Highbury brought new revenues from the new stadium, they had big money to spend and that in turn fed into Arsenal becoming known as the "Bank of England club." Tradition and money was a potent mix.

Now, does that all sound familiar? A move to a new stadium, new budgets and spending power as a result, a revolutionary manager and a majority shareholder attempting to oversee a new era as a powerful and successful club.

Yes, we could easily be talking about the Arsenal of today -- Arsene Wenger, the 42.5 million pound record signing of Mesut Ozil and majority shareholder Stan Kroenke, the U.S. sports mogul.

On Thursday, Arsenal host their Annual General Meeting at the Emirates. It will be the first for many years when Peter Hill-Wood will not take centre stage for one of his colourful addresses.

Hill-Wood was replaced by Sir Chips Keswick as chairman because of ill health. But if ever you needed proof of Arsenal sticking to traditions then it is provided by bringing in someone called Sir Chips.

Chief executive Ivan Gazidis may take an even more prominent role this year. Wenger always speaks and always engages with the shareholders. If results are going badly, he usually charms them round and convinces them they will get better.

- Kroenke could come under fire at AGM

Majority shareholder Kroenke will be there. He has spoken in the past. Rather like with his ownership of the club, he's passionate, but would rather take a back seat and allow Wenger to take centre stage. There was a time when we would have loved owners like that. I bet Cardiff fans would like that model.

There are hundreds rather than dozens present at the AGM. I love going to see familiar and friendly faces. The numbers are swelled by Arsenal Supporters' Trust members who have taken up the Arsenal Fanshare scheme, which allows supporters to buy part of a share to be represented.

These meetings in the past few years have brought promises of aggressive questions: "Why is not more money being spent?" or "How come there's been no trophies?" yet they often end up asking about the PA system on match days or why the ventilators smell.

It is always entertaining. And you can bet that there will be lots of talk about Wenger's future, new contract and so on.

But what is really impressive is the fact that the doors are open, journalists like me can attend and Arsenal engage with shareholders, fans and the media at their AGM like few other clubs I can think of.

As we move into a new era when football and footballers are criticised as being detached from their fans, Arsenal share a bit of tradition with theirs.

Kroenke has been criticised for not engaging. But he's always there and, having interviewed him recently, it's clear he's passionate about the club and is spending more time and hours working on it.

Just look at Chelsea or Tottenham. Do they engage? Do we ever see or hear from Joe Lewis, the Spurs owner? When Michael Dawson spoke about meeting him recently it was as if a mystery figure had landed from Mars. Yet their chairman Daniel Levy is lauded as a genius. When did he last speak?

It's the same for Roman Abramovich at Chelsea and the Glazers at Manchester United. Having said that, they are excused criticism because, presumably, they are winning.

Arsenal need a trophy. That will keep their shareholders and fans happy. But the club also deserves credit for being open and sharing a piece of wonderful tradition with their fans.