Sagna deserving of a new two-year deal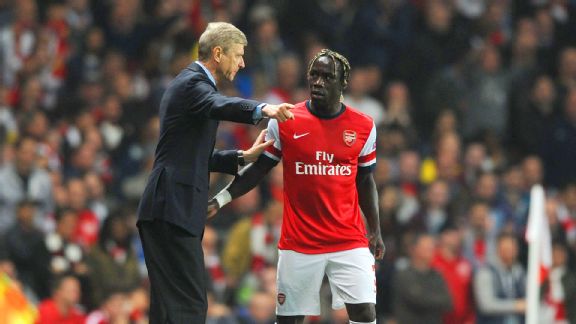 Stuart MacFarlane/Getty ImagesWhile many of his former teammates left for riches elsewhere, defender Bacary Sagna has remained loyal to Arsene Wenger and Arsenal.
Not everything in football is black or white.

Arsene Wenger has relaxed his rules slightly on giving his players over 30 just a one year extension.

- Report: Ozil praises Arsenal trust

And Arsenal should pull out all of the stops to keep Bacary Sagna for another two seasons, even though he will be 31 when his contract expires next summer.

France international Sagna is at a crossroads in his career, and yet I think he deserves rich rewards from Arsenal, having been fiercely loyal to them down the years. Sagna has been one of the best right backs of the Premier League era, twice voted as the best right back by his fellow pros who put him in the PFA Team of the Year. He is just one of those good, solid pros and a real club man. There have been opportunities to go and chase bigger money. Manchester City have been really keen on him in the past.

But Sagna, unlike some of his teammates, stayed loyal to Arsenal, his contract and to the fans. Now it's payback time. Again, big clubs are knocking. Big clubs in France and in the rest of Europe as well as interest from mega-wealthy clubs in the Middle East.

No wonder Sagna has been stalling on a new deal and contract talks have been dragging on. This is a player who is not being greedy, just wanting the right final big contract of his career. He is worth it.

But Arsenal have been reluctant to offer a new deal above 12 months. Wenger used to make Dennis Bergkamp, an all-time Arsenal great, come back each summer for a new one year extension. Wenger insisted he would not budge for Bergkamp or anyone. Then he began to shift slightly, hinting that he would give William Gallas two years, although the French defender turned his back on it anyway.

Now my understanding is that the over-30s rule is not so rigid. So, in that case, just give Sagna two years rather than look for an inferior replacement who will cost more anyway. Those two years would allow Carl Jenkinson to develop further, learn from one of the best fullbacks around and then be ready to step up when the time comes.

Sagna is tenacious in the tackle, strong in the air, has filled in at centre half and can also get forward well. Up until his hamstring injury, Sagna was enjoying his best form in a long time. He's not ageing, he's getting better.

Wenger has detailed his scouts to look around. There was interest in Micah Richards in the summer and they are monitoring Genoa right back Sime Vrsaljko. Richards should be back in the England frame, in my view. He'd be a great signing. But that shouldn't mean the end for Sagna. Reward the loyalty he has shown down the years with a big last contract for two years.

We often talk about the lack of loyalty and players staying at one club. When they do, like Sagna has done, then they should be rewarded.