International break gives Arsenal time to add options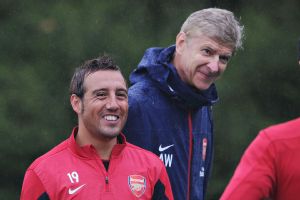 Stuart MacFarlane/Getty ImagesArsene Wenger, right, will be smiling more when he can get a healthy Santi Cazorla back on the pitch.
Making the optimistic -- some might say fanciful -- assumption that Arsenal don't lose any players to injury during the international break, we'll see Arsene Wenger's options improve dramatically when the domestic and European competitions resume.

When you look at the list of players currently sidelined, and what they might bring to the team, it's a mouthwatering prospect. For example, Santi Cazorla was Arsenal's only ever-present last season but hasn't played since the North London derby Sept. 1.

-Wenger weighs in on Wilshere comments
-Ozil happy with Arsenal's trust in him

Perhaps the most two-footed player in football these days, people have wondered where he and Mesut Ozil might fit into the Gunners side. Both prefer that 'number 10' role, in behind the striker with the freedom to roam, but both are versatile. The Spaniard has, in his time at Arsenal, played on the right and the left, to equally good effect, and the fact is great players can always play together.

The idea of Ozil and Cazorla combining, bamboozling defences with their speed of thought and movement, combined with the incredible technical ability they possess, is something that is bound to both excite and prove productive. I can't imagine there's a striker in the world who wouldn't like those two to be providing his ammunition. Giroud must be licking his handsome lips.

Lukas Podolski is working hard to make his return after a serious hamstring problem but will add real depth to the squad when he does. If everyone's fit it's hard to see a place for him in the starting XI, but everyone is rarely fit and titles are not won by 11 players only.

Over the course of the season there's a need to rotate -- something Wenger hasn't really been able to do in recent weeks, and perhaps the 1-1 draw at West Brom was as much down to fatigue as anything else.

The German is a lively character (on and off the pitch). his movement is good, and he's the most powerful, clinical striker of the ball at the club. Arsenal don't score too many goals from distance these days but Podolski provides that option. And he's exactly the kind of strength they need on the bench when a game needs to be changed or saved.

Although Arsenal annihilated Napoli without any traditional wide players, the return of Theo Walcott adds pace to the mix. It's especially useful away from home when Arsenal try and play a counter-attacking game, and after a slow start to the season the England man will be looking to get himself on track.

He finished top scorer, last season but it's almost forgotten that the dispute over his contract meant he found himself benched in almost every game until the beginning of November, at which point he started to feature on a more regular basis. There's still time for him to start scoring and to build on last goal tally.

With those three back you look at Arsenal's choices for the front three -- Walcott, Podolski, Cazorla, Tomas Rosicky, Oliver Giroud, Mesut Ozil, Serge Gnabry, Nicklas Bendnter, not forgetting that Alex Oxlade-Chamberlain is still a little bit away from fitness and Yaya Sanogo still has to show why Arsene Wenger brought him in from Auxerre in the summer -- it means Arsene Wenger really does have options for the first time this season.

How he's going to keep them all happy might prove a touch difficult, but it's exactly the kind of problem every manager loves to have.