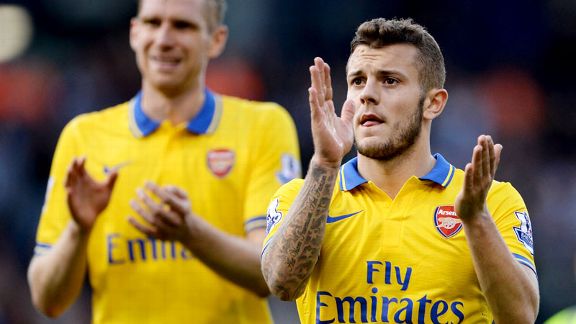 AllsportJack Wilshere rated his form a six-and-a-half out of ten.
Player ratings have always fascinated me because players really do look at the mark they have in the paper, and worry if they have a seven or a five.

I'll always remember one player berating me for giving him a four, even though he'd been sent off when the score was 0-0, and his team ended up losing because of his clumsy elbow.

In a modern era, it's one thing that the highly paid players still look at, as their egos demand they must.

- Wilshere clarifies Januzaj comments
- Mangan: Patience needed with Wilshere

There are very few Arsenal players whom I've given a 10: Cesc Fabregas and Robin van Persie after brilliant performances.

Jack Wilshere has had a few nines, but I can't recall giving him a 10. Maybe that's because it often takes a goal, brace or hat trick to top off a brilliant man-of-the-match display.

Wilshere was on 10/10 form in his England press conference this week, though.

Up at St. George's Park, English FA's headquarters and training centre, Wilshere, Arsenal's quietly spoken but tough midfielder, got through a variety of subjects.

He made it clear that, as a proud Englishman, he believes only English players -- those born in England or perhaps grew up here -- should play for England.

It was a brilliant debating point after the Adnan Januzaj story of how he may be eligible for England despite being born in Belgium and having an interesting Kosovan-Albanian heritage.

Then Wilshere also made it clear that, although he has been played on the left for Arsenal in recent weeks, "I'm not a left winger."

He's been forced out there by competition for places. Arsene Wenger even said it would help Wilshere's match fitness, as wide men are supposed to work a bit harder.

But what gripped my attention was when he was asked to rate his own form and appearances this season out of 10.

"I dunno," Wilshere said. "It's difficult. Some games I think I did well, and you have bad games as well. I am not a left winger, that is me doing a job for the team.

"I find myself defending more than going forward sometimes, but that is part and parcel of playing for a top club.

"We are doing well at the minute; we are top of the league so I'm happy with that. I am always looking to improve as well. Out of ten? Six ... and a half."

I reckon that's a pretty fair assessment. The trouble for Wilshere is that he didn't have a full preseason; he was dropped in and out of games after having ankle surgery at the end of the last campaign.

He's sometimes struggled for sharpness and has been displaced by Mesut Ozil and Aaron Ramsey at times. But, like he says, he has done a job for the team.

There's no doubt in my mind that Wilshere will captain England and Arsenal in the future. He's a leader, fighter and is exceptionally talented.

Goals are one thing missing from his game, however. He scored a peach at West Brom on Sunday. But the spotlight is on him so much that when he has an off day, like he did in Ukraine for England, then suddenly it's a Wilshere crisis.

I like the way he is realistic, self-effacing, driven and wants to improve. He admits goals are one thing he needs to add.

I think 6.5 is a fair rating. Good to see one player not giving himself man-of-the-match every time. With that attitude, he'll reach the top and get that 10 soon.