Patience needed with Jack Wilshere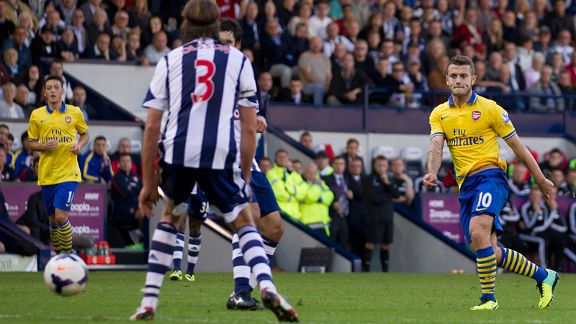 APArsenal's Jack Wilshere scores against West Bromwich Albion.
It was very much a tale of two halves for Jack Wilshere in Arsenal's 1-1 draw with West Brom on Sunday.

In the first he could do little right. His passing was off; he was sloppy on the ball and bundled off it too easily; his defensive work was suspect, going to ground to allow an opponent to go past him too easily; and it would have surprised nobody if Arsene Wenger had replaced him at half-time.

The Arsenal manager uses his substitutes cautiously, even at the best of times, and he'll be happy on reflection that he resisted the temptation to make an early change. In the second half Wilshere was probably Arsenal's best player.

- Jolly: Jack the lad rebounds
- Cross: Arsenal prove point to go back on top

Not only did he score a fine equalising goal, he offered a glimpse of what's still to come from him with a quite wonderful pass to Olivier Giroud. Seeing the Frenchman make a run behind the opposition, he dissected the West Brom defence with a perfectly weighted ball, from which Giroud might well have scored but for excellent goalkeeping.

If it had been Mesut Ozil who made that pass, there would have been oohs and aahs about how well the Gunners had spent £42.5 million. As it was Wilshere, it didn't get the same kind of attention.

Some of that is down to the fact that he is struggling for form this season, but Arsenal fans should look at Aaron Ramsey and his revival to ensure patience remains as the young Englishman tries to realise his very obvious potential. It wasn't long ago he was being hailed as the golden boy of English football, but there's little the press like more than to build somebody up because it allows them to knock him back down.

Like Ramsey, Wilshere is being asked to play out of position and he does that without complaint for the good of the team. Arsene Wenger says experience playing wide will serve him well when he moves back into the centre, but in reality he'll play best in his favoured position. Ramsey flourished when moved back into central midfield, it's hard to imagine that Wilshere won't find it easier when he's in a role he feels genuinely comfortable in.

The other thing to bear in mind is that in the last two years he missed an entire season through injury, and a good spell of another with residual problems which hampered his development. This campaign is one of consolidation. For him to really play as well as we know he can, he's got to feel confident.

Part of that is down to what he does on the pitch, but he also needs to have faith that his body can do what he wants it to. When he gets a run of 15-20-30 games under his belt, he'll be more assured that the problems he's suffered are behind him and that will benefit him and his game.

Wilshere is a rare talent, but like many young players is finding it difficult to establish himself in his team. It's also worth noting that the first half at West Brom is the only time he's played badly this season. If he hasn't been up to the standards of Ramsey or Ozil, that's not a surprise. He's still made an important contribution to Arsenal's start to the season, playing a part in all but one game (the Capital One Cup tie for which he, and others, were rested).

Football exists in a kind of bubble, where a player's worth seems to be based on his last few appearances, but people should look at the bigger picture with Wilshere, be patient, and he'll reward them for it.