Arsenal prove point at Baggies to go back on top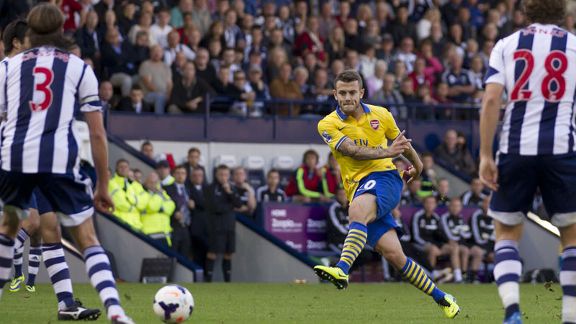 AssociatedJack WIlshere scores for Arsenal against West Brom.
Seven games in and Arsenal are still top of the Premier League.

That's a pretty impressive start to the campaign by anybody's standards, especially on the back of another difficult away game, this time at West Brom, who beat Manchester United last time out.

Arsenal's incredible, record-breaking away form has succeeded in raising expectations and it would be easy to look upon a 1-1 draw at the Hawthorns as something of a disappointment. After all, their run of eight consecutive away wins in the Premier League came to an end on Sunday.

- Jolly: Jack the lad rebounds for Arsenal
- Wilshere rescues point for Gunners
- Wenger talks up Wilshere spirit

But don't suggest for a moment that it should be seen as a negative. Arsene Wenger looked a bit disappointed when interviewed for the TV cameras afterward. But going into the international break after a terrific week, when Arsenal also swept aside Napoli, Wenger's mood will improve when he reflects upon the weekend.

Arsenal's point at West Brom was enough to take them back to the summit, the victory over Napoli was a huge step toward qualifying for the Champions League knockout stages and they will have players coming back from injury after the international break.

If you look at Arsenal's bench -- they are still having to use rookies Serge Gnabry and Ryo Miyaichi and out-of-favour striker Nicklas Bendtner -- then their start must be seen as a huge success.

It is also a massive vindication of the irrepressible team spirit which Wenger keeps referring to. West Brom made a poor start to the season but have found their rhythm, won at Old Trafford last weekend and are now up and running.

The Hawthorns has suddenly become a much harder nut to crack. When Claudio Yacob gave West Brom a halftime lead, suddenly there was a touch of panic on Twitter. Had they lost their magic touch? Were they about to lose for only the second time this season?

Didn't you just know it that Jack Wilshere, after the week he has had when he was pictured smoking, would pop up with the equaliser.

It was a bizarre game for Wilshere as he was booked, took heavy kicks and got frustrated at times. His form hasn't yet hit top gear and he could not have complained if he had been substituted at the break. But he kept fighting and his goal -- a fabulous low drive that took a slight deflection -- was deserved.

From then on, both teams had chances to win it. Maybe the best opportunity fell to Olivier Giroud and he rounded the goalkeeper only for Boaz Myhill to recover in time and deny him at the second attempt.

But Arsenal should not get too down. They leapfrogged Liverpool. They are above Chelsea and have put breathing space between them and Tottenham. When taken in the context of the weekend's results with Tottenham losing at home, it must be seen as a point gained rather than two lost.

Next up they face Norwich at home. Followed by Crystal Palace away. But Santi Cazorla should be back by then and others are nearing fitness. Lukas Podolski and Theo Walcott are getting closer.

It's been a great start for Arsenal and the result at the Hawthorns has only strengthened their standing in the Premier League.