Energised Wenger deserving of new deal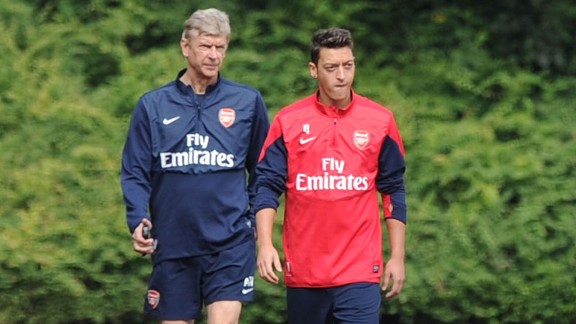 GettyImagesArsene Wenger has led Arsenal back to the top this season.
The chants rang loudly around the Emirates on Tuesday night. "One Arsene Wenger," sang the home faithful. How things have changed in the space of six weeks and 10 wins. Then, they were chanting for him to spend some money and questioning whether it was time for change.

That defeat to Aston Villa on opening day could hardly feel any further removed from the brilliant victory over Napoli in the Champions League that put Arsenal top of their group, having already climbed their way to the summit of the Premier League after six games.

Arsenal's record £42 million signing Mesut Ozil has given the club a feel-good factor, restored their belief and left Wenger believing the club can win their first piece of silverware since the FA Cup in 2005.

What is even more impressive is that Arsenal swept aside one of the best sides in Italy as they overwhelmed Rafa Benitez's Napoli.

They did it while resting Jack Wilshere and relied on Mathieu Flamini and Mikel Arteta to bolster their midfield axis to allow Ozil to run the show, while Aaron Ramsey turned in another barnstorming midfield display.

Arsenal are on a roll and have options as they look to go forward as a club. Suddenly, from looking stressed and bored of questions about potential signings in the transfer window, Wenger looks fresh, excited and energised.

In fact, the Frenchman looks as if he is enjoying the job again, more than at any time during the past few seasons.

He has never hidden his admiration for Ozil, and the playmaker's virtuoso performance against Napoli and impact has lifted the whole club.

At times, Arsenal looked untouchable and hit heights against Napoli that I had not seen since the Invincibles era when they swept aside opponents with their sheer physical power and pace. Now they do it with their silky skills, passing and movement.

Even the cynics -- and there are a lot of them -- among the Arsenal fans appear to be enjoying the ride. And that is why Arsenal would do well to strike while the iron is hot on Wenger and sign him up to a new deal.

Arsenal's majority shareholder, Stan Kroenke, has made no secret of his admiration for the manager, how much he wants him to stay and how he believes he is the man to take the club forward into an exciting new era of success.

Inevitably, not everyone will completely agree. It's been a long time since a trophy has been won. But while Arsenal are playing well, and have shown their ambition with the Ozil signing, now it seems like a no-brainer to re-sign Wenger.

He has guided Arsenal through a difficult era when they have moved stadiums and had their budget restricted, yet they are competing with Manchester City's millions and Chelsea's wealth in the Roman Abramovich era.

They have come out the other side and, having done so much for the club, surely the man at the centre of it all deserves the chance to enjoy renewed success with wonderful resources at his disposal.