Gunners outplay Napoli in two different ways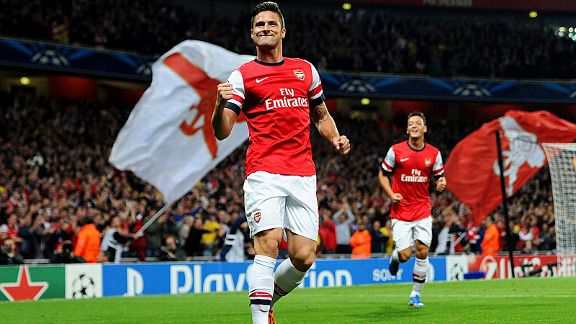 PA PhotosJoy for Olivier Giroud after he doubled Arsenal's lead against Napoli.
Arsenal showed two sides to their game as they comfortably beat Napoli 2-0 at Emirates Stadium on Tuesday evening.

The Italians might have been expecting a fast start from the Gunners but they were blown away with two goals inside the first 15 minutes. Mesut Ozil opened his Arsenal account with a beautifully controlled finish from an Aaron Ramsey pass, before he turned provider for Olivier Giroud to double the lead a few minutes later.

For a time, Napoli could hardly get near the ball as Arsene Wenger's team passed the ball well and coupled it with wonderfully incisive movement, leaving the visitors chasing shadows at times. When they did get the ball, they didn't have it for long, as Arsenal won it back and looked to create more.

- Horncastle: Five things we learned
- Classy Gunners punish Napoli

Ozil and Ramsey combined brilliantly in midfield; only last-ditch defending prevented further goal-scoring chances, and the 45 minutes as a whole were reminiscent of Arsenal at their very best under Wenger. Bearing in mind this was a Napoli side that is second in Serie A, and yet to have lost a game this season, the first half was hugely impressive.

The second half was different. Napoli's players came out more determined to stop Arsenal from playing and increased the pressing, particularly when the centre-halves had the ball. That, coupled with the fact that Arsenal didn't need to do anything but keep them from scoring, meant that the second period played out in an interesting way.

Napoli had to go for it, but the Gunners' set-up and defensive work-rate meant they found little joy in their attacks. For a time, it seemed as if their players were having a "who could shoot highest over the bar" competition, but that was as much down to the way Arsenal defended as poor finishing.

The only place the Italians got space was 30 to 35 yards from goal, but when it opened up for shots, a combination of poor technique and quick closing down meant the opportunities were wasted.

That Wenger's men can play both ways is hugely encouraging. They look like a team that feels comfortable protecting a lead. With a two-goal cushion, they had no need to chase the game, and were happy to let Napoli play a little more, confident they had what it took to keep them out. And they were right.

The defence, not just the back four, is as solid as it has been for a very long time, and in Giroud they now have a reliable outlet to ease the pressure. Time and again he won flick-ons, or took the ball on his chest, held it up, held off defenders and kept the ball, and possession, very well.

His all-around game has improved so much, and it's clear that his presence up front is an important factor in how they're playing right now. Another goal to add to his five already makes his stats column look very nice, but Gunners fans should be encouraged by the way their team performed against such calibre of opposition.

Napoli were completely outplayed, in two very different ways, by Arsenal at the Emirates.