Giroud has chance to put Higuain in the shade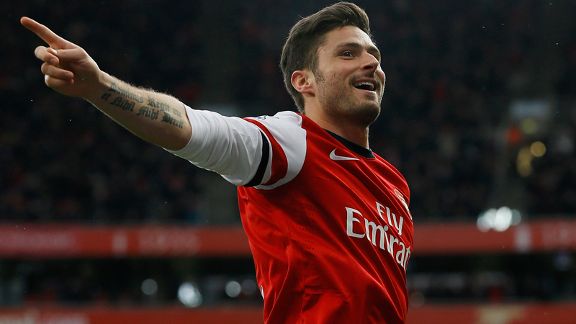 APOlivier Giroud has been in sparkling form this season.
Arsene Wenger spent much of the summer pursuing Napoli striker Gonzalo Higuain. Predictably, the Arsenal manager was asked about the ex-Real Madrid star at his pre-Napoli Champions League news conference. "Who?" said Wenger.

Obviously Wenger didn't hear the question properly. Not even he could try to pretend that he has never heard of Higuain just to avoid scoring a PR own goal on the eve of a huge game.

Higuain was Arsenal's first top target of the summer. That evolved into Luis Suarez as Wenger saw the Liverpool striker as more of a complete player. They ended up with neither of them and came closer to signing Demba Ba as an emergency deadline-day loan deal. Even that fell through.

- Wenger: No regrets over Higuain failure
- Arsene Wenger hails Rafa Benitez

But Arsenal salvaged the whole situation by getting Mesut Ozil for £42 million to keep the fans happy, even if he is not a striker. Although the club do have a rejuvenated Olivier Giroud.

I was on tour with Arsenal in Asia, and every day there was a story about their pursuit of a striker: either a bid for Suarez or a move for Higuain. The truth is that Arsenal's interest in Higuain faded when it became apparent -- I wonder who could have told them? -- that Suarez was available.

Just look at Higuain's stats. They are incredibly impressive: Three goals in four games for Napoli, 107 in 190 matches for Real Madrid, 21 in 35 for Argentina.

His ratios are sensational, he is a great finisher, clinical, spots openings and his anticipation in the box make him a genuine force in the Champions League.

But in this day and age when we demand more from our strikers than mere goals alone, he is a penalty box poacher. A damned good one, but a poacher.

Suarez is the all-action, all-encompassing striker who runs his socks off for the team, scores goals and works incredibly hard. Maybe he's not someone you'd take home to meet your mum, but on the pitch he's a sensation.

So Arsenal spent the summer flirting with strikers and, football being football, that could have easily put Giroud's nose out of joint. Some footballers would have sulked and their play would have suffered. That's a footballer's ego for you.

But while journalists like me spent the summer asking him about his future and possible new arrivals, Giroud knuckled down and worked even harder.

In preseason, you could tell Giroud had a point to prove. After scoring five goals already, you can tell Giroud is determined to have the last laugh.

He resembles a classic English centre forward: good team player, physical presence, flick-ons and layoffs. He's been in good goal-scoring form and his all-round game has improved.

The only worry for Arsenal is there's no backup. Giroud, when fit and in form, can carry Arsenal's hopes in the Premier League and Champions League. But if he gets tired through having to play every week (Nicklas Bendtner at least gets the Capital One Cup games), then Arsenal may come undone.

However, Arsenal have a man on a mission. He'll be eager to show his best against Napoli and even Liverpool when they come up against Suarez.

And maybe, just maybe, Wenger will be right to ask: Gonzalo who?