Arsenal title belief continues to grow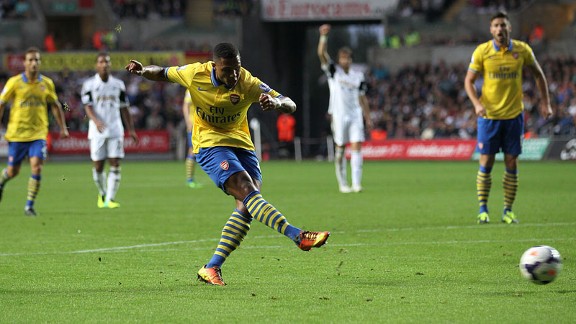 PA Photos18-year-old Serge Gnabry scored his first Premier League goal in Arsenal's 2-1 win at Swansea.
At what point does Arsene Wenger dare to dream?

Up until now, the Arsenal manager has been carefully guarded about his team's title credentials, playing down their chances or dodging the question.

- Report: Swansea 1-2 Arsenal

In typical fashion on Friday, he simply claimed it was an open race and people would think he was "stupid" if he dismissed their chances.

But victory at Swansea keeps them top, perhaps putting a different slant on things. That's a hard place to go, especially after a tough midweek cup tie while trying to balance a Champions League game three days later. Maybe it's no longer a flash in the pan, but a genuine title challenge.

On top of that comes unexpected bonuses such as Serge Gnabry's goal as he continues to fill in for Arsenal's injury-ravaged side.

Needless to say, Aaron Ramsey was on target as well. But that's standard. A given even. His eighth goal of the season, a remarkable return and his best return ever.

Yes, they were pegged back and holding on for a few nervous moments at the end. But away wins don't get much tougher or taste much sweeter than this.

It shows resilience in the face of a crippling injury list with the casualties seeming to grow by the day.

Theo Walcott is now out for up to five weeks. That's on top of Lukas Podolski, Alex Oxlade-Chamberlain and Santi Cazorla. The only light at the end of the tunnel is Tomas Rosicky possibly being back for Napoli on Tuesday.

So that speaks volumes for Arsenal's determination, spirit and togetherness. You need all of those qualities to win at places like Swansea's Liberty Stadium.

And when you miss chances like Olivier Giroud and Mesut Ozil did, you also need to keep going.

Sure enough, Gnabry and Ramsey delivered and rounded off good Arsenal play as they pressed forward, enjoyed good possession and played the game the way they wanted.

That's eight away wins on the bounce in the Premier League. Some achievement. This team is set up well for counter-attacking with their gifted midfield ball players changing defence to attack in the blink of an eye.

That's a great quality to have when you can go pass, pass, pass and then chance. Arsenal are quick and incisive.

The only worry is those injuries and the strain being put on Giroud. Can one striker last the pace and keep it going?

The depth of squad is a concern, but Wenger's philosophy of a tight, together unit is working wonders. The dressing room spirit is reaping rich rewards.

And on a weekend when both Manchester clubs lose and Tottenham hold Chelsea at White Hart Lane, then Wenger can probably begin to dream.

The big, much-fancied contenders are struggling for consistency, something Arsenal possess right now. They have that wonderful knack.

After flirting with the title race three times in the past five seasons and going eight years without a trophy, some outsiders will take some persuading.

But the belief is growing from within.