Kids struggle but will gain from a great win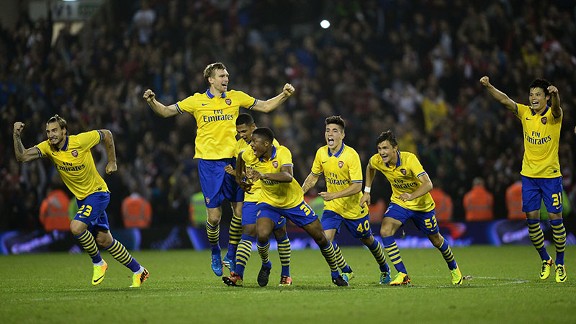 GettyImagesArsenal celebrate Nacho Monreal's match-winning penalty.
Arsenal are through to the fourth round of the Capital One Cup after a fairly tedious, but ultimately exciting, 4-3 penalty-shootout win against West Brom Wednesday at The Hawthorns.

When you consider the ages and inexperience of the players Arsene Wenger brought into the side, it's little wonder that the Gunners struggled to find any fluency against a West Brom side that offered just as little in return.

-Wenger: Bendtner can be "unstoppable"

It's little surprise that Arsenal's most effective players were their most experienced. While the likes of Per Mertesacker, Thomas Vermaelen, Mikel Arteta and the excellent Carl Jenkinson kept things solid, the youngsters, for whom this competition is very much a shop window, struggled.

Serge Gnabry was dispossessed too often despite his willing running; Ryo Miyaichi has pace but his passing was woeful at times -- one attempt went straight to the feet of a West Brom man with no Arsenal player anywhere near him and another almost the full width of the pitch for a throw; and Thomas Eisfeld, despite scoring Arsenal's goal, was anonymous and bundled off the ball constantly.

It meant the burden to withstand the home side fell on those with greater experience, and they did well. Mertesacker, in particular, was outstanding, always in the right place to make clearances low and high. Alongside him, Vermaelen will be glad of a performance that wasn't punctuated with the kind of mistakes which saw him dropped last season.

Arteta's return to the side provided the midfield platform, and while debutant Isaac Hayden worked hard, the Spaniard was frustrated at times by the rawness of his midfield partners. That they're so callow is understandable, but it did increase the pressure on the senior players.

Nicklas Bendtner, back in the starting lineup for the first time in two seasons, looked like a man back from the wilderness. Literally. If you were asked his job, you'd say "trapper of wild animals in a forest into which few people venture." Professional footballer would have been a long, long way down the list.

But the Dane did well, competing for -- and winning -- lots of headers, and it was from his precise pass that Eisfeld scored in the second half. His rust showed when put through himself late in the 90 minutes, and his indecision -- taking one more touch -- allowed the West Brom defender to get back and clear.

It would be something of a shame if that were what his night was remembered for. He did step up to, take and score Arsenal's first penalty, and for a guy who hasn't played in so long and was only called up because all other possibilities were ruled out, he did pretty well overall.

Although the clearly exhausted Gnabry missed Arsenal's second penalty, two West Brom players fired their spot kicks wide, which allowed other youngsters Chuba Akpom and Kriss Olsson to set up the win for Nacho Monreal. The Spaniard blasted home, and you have to give credit to their ability to cope with the pressure of the shootout.

The reward after 120 minutes of toil and hard work in the next round? A visit from Chelsea, whose squad is fat and well fed, while Wenger has to rely on yesterday's men and tomorrow's boys in this competition.

Still, it worked for him Wednesday, and they'll take nothing but good things from this victory.