Wenger relying on 'turn-to' two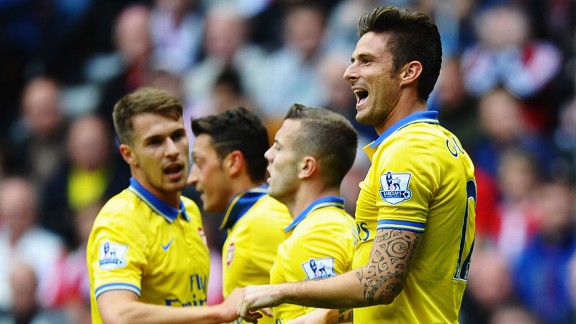 GettyImagesOlivier Giroud celebrates after putting Arsenal into the early lead at Sunderland.
The focus will be on Mesut Ozil before his home debut. But there are two other players that Arsene Wenger simply cannot afford to be without at the moment.

In-form midfielder Aaron Ramsey is playing the best football of his career and comes up against Stoke on Sunday, the club where he suffered a horrific leg break three years ago. And also French striker Olivier Giroud who, similarly, is a must for Arsenal. Not just because, like Ramsey, he is in great form. But because they've got no-one else.

Yaya Sanogo and Lukas Podolski are injured and it may even mean a return for Nicklas Bendtner. Things are that desperate. They are also desperate enough for Wenger to keep playing Giroud even though the French striker admitted this week he is carrying a knee injury.

That's the state of the Arsenal squad at the moment. They are short but they are also determined to carry on battling through it and maintain their remarkable start to the season which should

Wenger believes Giroud is actually benefiting from being the main man, having known his place was under threat and is now proving his point on the pitch.

"I believe he (Giroud) has improved technically in his link play and that will come out throughout the season. He has a huge physical presence that is very difficult to find these days. This season is a big test for Olivier but I'm sure he will have a great season," said Wenger.

"He has a kind of belief positive mentality that comes out. He has a good self esteem that is a very important quality, because when you're a striker you have to deal with a lot of pressure and it doesn't affect him too much when he doesn't always score but overall I think he has a very strong mentality."

It is a similar story for Ramsey as Wenger praised his mentality and determination in coming back from a career-threatening injury. Mind you, Wenger insists Ramsey's career was never under threat.

Wenger said: "It took him (Ramsey) a long time to get completely over that, especially in the duels, in the fights. He had a little resistance to go into the fights for a long time. Now he's over it.

"He scores goals now. I always thought he would score goals if he improves his technical quality. When you watched the games, you saw him always in good positions in the box. When he got the chances, he missed sometimes, a short first touch.

"He has improved tremendously on that and that's why he scores goals. He has a great engine, great spirit and has an obsession - he wants always to be better. That's of course very good ingredients.

"I noticed he is completely over it (the injury) is in the last three or four months of last season. He had a difficult period in mid-season where people became a little bit impatient with him.

"He lost confidence and sometimes you give the players a little rest, they can rebuild their confidence, they can think about their game and they came come back stronger. That's what happened to him.

"I never feared Ramsey would not come back to the level he's at now because there's a basic rule in our game. When you have a big injury before the age of 20, you come back and redevelop completely normally, once the psychological damage is out of your head. So I was not too much worried but you never know how big, how deep the impact is psychologically."

Thankfully for Wenger, his two "turn-to" players are clearly very strong mentally and physically.