Wenger at fault for Arsenal injury crisis
Arsene Wenger cannot blame anyone but himself.

It was a very deliberate policy by the Arsenal manager to keep a tight squad, try to keep a togetherness and spirit from last season as well as trying to ensure there were not many unhappy faces in the dressing room.

- Marseille optimistic about Arsenal win

Now Arsenal are running out of players. They're having to name kids like Chuba Akpom and Isaac Hayden on the bench for their first Champions League group match. And we're still in mid-September.

Arsenal do have a big injury list. Alex Oxlade-Chamberlain, Santi Cazorla, Yaya Sanogo, Abou Diaby, Nicklas Bendtner, Tomas Rosicky, Lukas Podolski and Mikel Arteta are all out. But wasn't this always going to happen?

After all, they shipped out a raft of first-team squad players -- Sebastien Squillaci, Denilson, Andrey Arshavin, Marouane Chamakh and so on -- and only brought in Sanogo, Mesut Ozil and backup keeper Emiliano Viviano.

Long gone are the days of 30-odd years ago when Liverpool could win the league with 16 players. People will tell you it was a 42-game league season then and the tackles were tougher.

But the counter-argument is that now you have the Champions League. And while it is only 38 Premier League games, the intensity is quicker, and that's why when a squad limit was introduced they made it for 25 players.

That seems a decent level to get through a season both domestically and in Europe. Arsenal certainly don't have those numbers. They have an outstanding first XI. But after that, they are clearly struggling.

Yes, you can look to those injured players. Cazorla is a definite starter. Arteta, too. You can probably discount Diaby and Bendtner. But the others are all very valuable squad members.

So take them out and you are left with a threadbare group heading for Marseille. The first-team line-up is strong, but there's not much depth. Could other big teams cope with that level of injuries? It's arguable.

But there's no doubt that Manchester City, United and Chelsea have bigger squads. My long-held theory on Arsenal's injury list is nothing to do with the medical department. In fact, it is an outstanding medical department.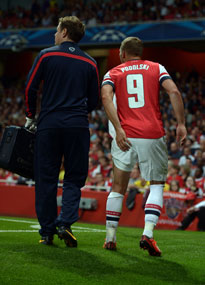 GettyImagesLukas Podolski was injured playing for Arsenal against Fenerbahce.
It is solely to do with Arsenal carrying a smaller amount of players, relying on that same group to train most days and rush them back for games, and that's why you get so many injuries. They get hurt when they are tired and vulnerable.

If Arsenal have their first XI playing, they are a match for anyone in the Premier League. If they could guarantee that they could play at full fitness each week they could win the league.

But in among that group, you have Olivier Giroud who is the only recognised traditional centre-forward at the club. That's a remarkable level of pressure on him. They should have more quality backup for a striker showing great promise and quality, but still only in his second season in the Premier League.

Aaron Ramsey is the star of the show so far in midfield, never mind the world-class quality of Mesut Ozil. Jack Wilshere has had injuries and needs managing. They really miss Arteta.

In defence, they have a terrific set of players and options. Carl Jenkinson backs up Bacary Sagna who can also play centre-half. Two excellent left-backs and three international centre-halves.

Is there really enough pressure and competition for Wojciech Szczesny? Arguably not. That represents the problem.

There is a lack of competition and depth. The team spirit is exceptional. That's working. But Arsenal need another striker, probably a top-class keeper and perhaps more in midfield. Have they got an anchorman? They had to play Wilshere wide left on Saturday.

The situation -- both good and bad -- is summed up perfectly by Giroud. Everyone is together. But will it be enough?

Giroud said: "We're a really united squad and everyone works for the team. That's good, we have a quality squad, but I'm a bit scared about the numbers we have in the squad.

"We will face problems because of the numbers in our squad. But we'll do everything we can to rival the big clubs.

"Of course we would like to win a trophy, but everyone knows there is a lot of competition in England and in Europe. England is possibly the most closely contested league in Europe.

"Last season we weren't far off from qualifying against the best team in Europe. We made a bad start and had to catch up. This season we wanted to make a good start and not have these problems from the outset."

Arsenal are looking for their 10th consecutive away win in Marseille on Wednesday evening. Can they keep these levels going all season? Maybe if the players come back from injury. But as soon as they come back, a new group will get injured if too much has been asked of them in the meantime.