Giroud's improvement gives Wenger food for thought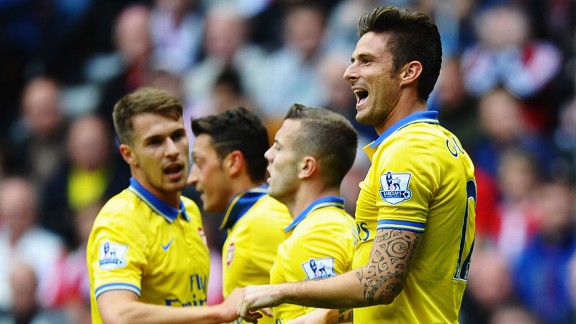 GettyImagesOlivier Giroud celebrates after putting Arsenal into the early lead at Sunderland.
When Arsenal failed to sign one of the big-name strikers they pursued all summer, there was some consternation among fans.

For a time, it looked as if Gonzalo Higuain was a done deal, only hours from completion, before he was cast aside for the misinformed, ill-judged pursuit of Luis Suarez. And we all know how that ended.

That Arsenal wanted a striker was clear. Even on deadline day, they had more or less agreed to a deal with Chelsea for Demba Ba. But when Jose Mourinho learned Mesut Ozil would be supplying the ammunition, he pulled the plug, leaving Arsene Wenger to make do with what he had.

-Grantland: Giroud better or luckier?
-Wenger voices injury concerns

Lukas Podolski, the most obvious alternative to Olivier Giroud, picked up a bad hamstring injury against Fenerbahce last month, and the other options are unconvincing. Yaya Sanogo is raw and inexperienced, Nicklas Bendtner is unfit and a whole lot of hassle, while Theo Walcott's display in front of goal against Sunderland last weekend, coupled with his very specific skill set, showed why his claims to be a central striker are fanciful.

So the onus has fallen on Giroud to deliver -- and he has. Not just with the goals he's scored -- five in six games, including the winner against Tottenham in the North London derby -- but his improvement as a player is obvious, too.

Last season, his first at Arsenal, brought 17 goals and 10 assists, good numbers, really, but there were times when games would pass him by a little bit. Tasked with holding up the ball and bringing others into play, too often the ball would bounce away or the final pass wasn't quite up to scratch.

On Saturday, aside from scoring Arsenal's opening goal in the 3-1 win at Sunderland, Giroud's all-around game was superb. His pass completion rate was 85 percent, high for a striker; he created two clear chances, one which brought Aaron Ramsey his second goal; and he showed how he's developing as player with the touches and flicks in the final third which were much more productive.

He looks stronger, holds the ball up better, and his movement is really excellent -- something that's overlooked as he's not the quickest. But think about how many times he gets across the defender to fashion those near-post chances.

Throughout the summer, Giroud was open about the fact that he'd welcome another striker at Arsenal. Even though signing somebody such as Suarez would undoubtedly have meant him playing less, he knew it would be good for the team. He said he'd relish the competition, using it to make himself better.

In the absence of that new arrival, he's got a different challenge on his hands -- and that's to make Wenger think about what kind of a striker he wants when he dips into the transfer market again. If Giroud can keep scoring and contributing, is there any real need for Arsenal (who open Champions League group stage play Wednesday at Marseille) to spend a massive amount on money on a star? They certainly need more options at striker, but Giroud has just turned 26, and he has his best years in front of him.

Perhaps Giroud can become that main man, the one others have to compete to get into the side. Clearly it's early days for the new season, but he's made a good start with effective, selfless displays which will certainly give his manager something to ponder.