Arsenal's new midfield dream team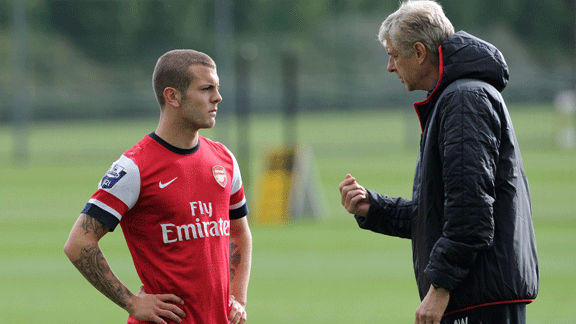 GettyImagesArsene Wenger has no concerns over Jack Wilshere dovetailing with Mesut Ozil in Arsenal's midfield.
The target for any manager in a transfer window must be to raise the level of his squad. And there is no doubt that Mesut Ozil has done that for Arsene Wenger, even if a striker rather than a midfielder was more of a priority this summer.

But as Ozil, Arsenal's record £42 million signing, prepares to make his debut at Sunderland on Saturday, it does leave Wenger with a few question marks as to the make-up of his team in the long term.

You could see Wenger grinning like the cat who had got the cream when Arsenal unveiled Ozil at their training ground on Thursday after training.

- Wenger excited by Ozil-Wilshere link
- Analysis: Ozil can be Arsenal's creative kingpin
- Cox: Ozil's secret weapon

Ozil, sat to the left of Wenger, spoke well -- albeit through an interpreter -- about his ambitions to win trophies, to improve as a player and also to play good football at Arsenal.

This is Wenger's dream signing. Why didn't he sign Marouane Fellaini? Simple. Because he wanted a ball-playing midfielder. If Wenger's philosophy is 4-3-3 (or a variation of a theme on 4-2-3-1) then those midfielders must all be small, technical and creative.

Arsenal lack backup and competition for striker Olivier Giroud. But who cares? Certainly not Wenger.

Back in the day, Wenger's Arsenal were accused of passing the ball to death and not shooting enough. Now they've got an army of midfielders and one proven centre-forward.

The midfielders can supply the ammunition for Giroud and hope the Frenchman stays fit. Otherwise, it's over to Yaya Sanogo. I can't help but feel that Nicklas Bendtner is a red herring. There's no way back for the out-of-favour Danish striker.

So who plays in Arsenal's new midfield dream team? Ozil is the No. 10 and the supplier of chances, assists and a few goals.

Santi Cazorla goes left, Theo Walcott on the right, so the question is who fills the two midfield slots at the base of the trio.

The way Aaron Ramsey has started the season, he has to keep his place. With Mikel Arteta and Tomas Rosicky both injured, the choice at Sunderland is between the more defensively minded and tenacious Mathieu Flamini or Jack Wilshere.

And this is the problem that often crops up. Sign a star player and then it's all about how the others fit in.

There are no such fears for Wenger. Just an excitement about how Ozil will play and a vision of how Wilshere will dovetail alongside him in midfield.

Wenger said: "Ozil has the personality to express his game, which is for me the most important. He is a creative player, and that's what we want. To express his talent and develop it.

"If you look well at his record his assists are fantastic; his goal-scoring record, there is room for improvement. You expect him in the next years to combine those two together.

"In midfield Jack Wilshere is more comfortable in deeper positions, and Ozil more in a higher position. That's why I don't think they conflict.

"I didn't always think that but looking at Jack over the years now, he likes to come deep to take the ball and make a difference, and then give and go again. Ozil is more behind the striker, higher up on the field."

Listening to Wenger and hearing Ozil gush about the Arsenal manager makes you think this is a long-term plan and a vision for sustained success.

After all, Ozil is 24 years old and at the peak of his powers. That's why for all of Wenger's comments as to how he will have to have a good season and review his own performance before signing a new contract, I don't actually believe him.

The Arsenal hierarchy have already made up their mind. They want him to sign a new contract. Talks have already taken place. The dream scenario is that Arsenal go on a winning run and excel both in Europe and domestically; then a new contract is an easy sell.

The nightmare scenario is for Giroud to get injured and for Arsenal to fall away towards a season of mediocrity, with the fans getting restless and split over whether Wenger should stay.

Either way, Wenger will be offered that new contract. The only man stopping it being signed is the manager himself. If he feels he's gone as far as he can or the fans don't want him anymore then Paris Saint-Germain would happily take him -- and a few other big clubs besides.

But my guess is that Arsenal and Ozil have a good season and Wenger signs a new contract before Christmas. Is it a given? No. But Ozil can give Arsenal and Wenger one hell of a lift.