Rosicky should consider his international future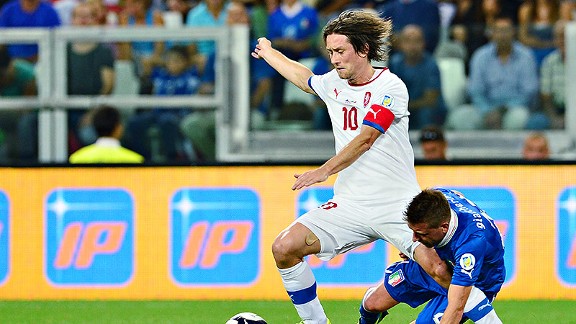 Giuseppe Cavace/AFP/Getty ImagesAfter yet another knock, perhaps it's time for Tomas Rosicky (10) to give up playing for the Czech Republic and focus on his career at Arsenal.
It remains to be seen how severe Tomas Rosicky's thigh injury is; he picked it up Tuesday in the Czech Republic's 2-1 loss to Italy, but the Czech midfielder should now give serious consideration to his international future.

Having started four of Arsenal's first five games, Rosicky then had to face up to the fact that Arsene Wenger splashed out 42.5 million pounds for Mesut Ozil, who plays the same position. I count myself as an admirer of Rosicky, a former Borussia Dortmund player, but there's no doubt that the German international Ozil is an upgrade.

-Arsenal updates
Cazorla on Ozil | Flamini | Marica

While Arsenal's squad is certainly light up front, midfield is an area where there's genuine competition. Rosicky's best position is at the tip of the midfield trio, but that seems the most obvious position for Ozil. Not to mention that Santi Cazorla and Jack Wilshere (given the 10 shirt for good reason by Arsene Wenger) are candidates for that role, too.

An injury picked up on international duty is something Arsenal can cope with, but it's a real setback for Rosicky, and he should ask himself if it's worth the effort. The Czech Republic are outsiders for World Cup qualification now, and he seemed to be considering his options after Tuesday's defeat.

Asked Tuesday if retirement from the international game is something he is thinking about, he said, "At my age [32] and after such a failure ... I will think about what to do next."

For all his talent, Rosicky has been notoriously brittle since his arrival at Arsenal in 2006. He missed an extended period due to an incredibly rare injury which took a long time to discover. A ligament had detached, and then "sat down" in the exact position it should have been, so scans showed no damage when he was clearly unfit to play.

Being out of the game that long had knock-on effects, and he's missed periods every season since. When Rosicky does get a run in the team, he's a huge positive for Wenger's men. His energy and drive change the dynamic and rhythm of the team, and it's no coincidence that he has featured heavily in Arsenal's two recent end-of-season flourishes that have resulted in top four-finishes.

Arsenal have been good to Rosicky, giving him new deals -- even when injured -- because they recognised the quality he brought to the team when fit. But he'll be 33 at the start of October, and the dual demands of international and club football are often too much for the fittest of players at that age, let alone one who has had the spate of injuries Rosicky had had.

Last year, he spoke of his career in the context of those problems. "You know, my normal age is 31 but in football years I'm 29 -- I lost two years because of injury, so let's just talk about my football age."

There does seem to be plenty left in his legs. He can still chase and harass and create, and he has started this season in fine form for his club. Maybe it's time for him to repay some of the faith and consideration the club has showed him, and give the rest of his footballing years to Arsenal.