Young, talented and British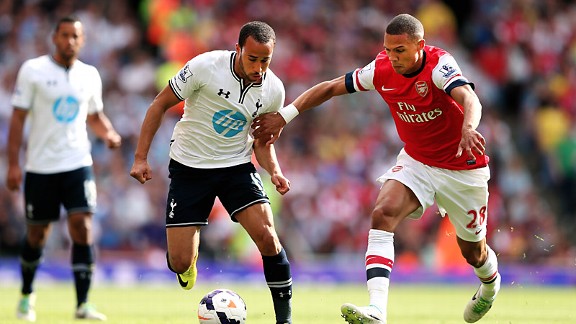 Clive Mason/Getty ImagesKieran Gibbs has taken the chance handed to him.
Kieran Gibbs must be a good antidote to the argument that English players do not get a chance in the Premier League.

In fact, Arsenal actually provide an interesting contrast to the majority of English clubs as Arsene Wenger has made a very deliberate policy of building a strong British core at the Emirates.

Gibbs is a good example. He is 23, has had more than his fair share of injuries and yet has come back in the past year or so to hold down a regular first team place.

- Mangan: Szczesny has to stay switched on

It might have looked bad for him when Arsenal bought a new left-back at the end of the January window at the start of the year.

Gibbs got injured, Andre Santos was on his way out together with his prized Robin van Persie shirt, there was a growing injury list, and Wenger was forced into the market.

Arsenal signed a long-term target in Nacho Monreal, Spain's second choice left-back who was vastly experienced, had gone to major tournaments and cost £8 million from Malaga.

If you were weak willed then you could easily give up and think Monreal was Arsenal's new left-back. But Gibbs came back well, re-established himself and, when they have both been fit, Wenger has chosen Gibbs to be first choice.

Gibbs has one major asset over Monreal in my view: pace. While Monreal's class and pedigree is not in doubt, I remember seeing him really struggle against Andros Townsend at QPR towards the end of last season. Townsend's pace gave him the edge.

Every top club needs two quality players in each position. While Arsenal's squad is thin in some areas, the left-back slot is very, very strong.

But Gibbs provides proof that if you are good enough then you get your chance - irrespective of nationality. It promises to be a good battle between the two but, if anything, Gibbs has responded by raising his game and that, in itself, justifies Monreal's signing.

Gibbs will surely get the call for England again soon. He's already made the seniors and if Ashley Cole and Leighton Baines keep battling it out for this World Cup, then surely Gibbs will get his chance post-Brazil.

In fact, Chelsea full-back Cole, after playing against Gibbs for the first time a few years back, couldn't help but remark (in one of the very few times he stopped to speak to the media): "Where do Arsenal keep getting these left-backs from?" After Gael Clichy as well, it was high praise for Gibbs.

Arsenal have collected a good pool of players which must at least give England boss Roy Hodgson hope after the FA's major concerns that home grown players are not being given an opportunity.

Jack Wilshere is England's great new hope. Alex Oxlade-Chamberlain, Theo Walcott and even Carl Jenkinson have been called up.

How Hodgson must wish Aaron Ramsey was English. But the Welsh midfielder is another great example of British players coming through as his form at the moment is exceptional.

From a period when Wenger was castigated for fielding too many foreigners, the Arsenal manager has bought British because he believes in their talent but also sees it as strengthening the dressing room spirit.

They are all together like mates, will work hard for each other on the pitch and really dig in for the team. It's a clever and successful home-grown policy.

More food for thought on home-grown players: when Ashley Cole was a youngster at Arsenal, he nearly joined Crystal Palace for £500,000 but they struggled to find the cash. Meanwhile, Silvinho, Arsenal's Brazilian left-back, was having passport problems and Cole got his chance.

If Cole had gone to Palace then would he have become the player he is today for Arsenal, Chelsea and England? He has been the best in the world in his position.

There's no easy solution. Quotas is not the answer. Talent is. Gibbs shows that if you are good enough then you will get your chance.