Szczesny has to stay switched on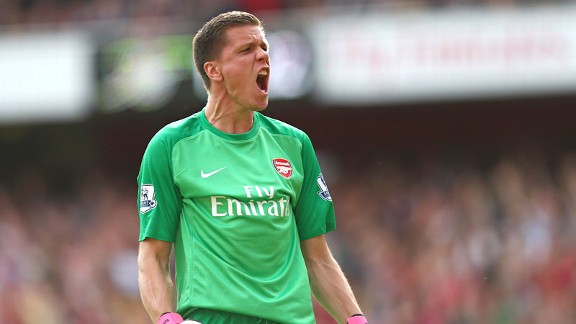 Clive Mason/Getty ImagesAfter being benched last season, Wojciech Szczesny has returned to Arsenal's starting lineup.
It was interesting last season, shortly after Wojciech Szczesny's father had heaped blame on Arsene Wenger for his son's lack of form, that the Arsenal keeper quite publicly backed his manager above his old man.

Of course, you can put that down to common sense; no player wants to be put in an awkward position, but it was something that could have been discussed between Szczesny and Wenger in private. Instead, he chose to make a statement, saying, "I'd like to make it clear that those were the views and opinions of my father and not mine, and although I respect his views I cannot accept them as I find them disrespectful to the club I truly love."

- Report: Fabregas backs Ozil to shine
- Cross: Wenger worth a new deal, Ozil or not

It came not long after he'd been unceremoniously dropped for compatriot Lukasz Fabianski who, on his first game in over a year, kept a clean sheet at the Allianz Arena as Arsenal beat eventual European champions Bayern Munich 2-0. There hadn't been anything hugely catastrophic about the way Szczesny was playing. There were no Almunia-esque mistakes or, indeed, Fabianski flaps, but rather a general sense that he wasn't as focused as he should be.

It was injury to the elder of Arsenal's two Polish keepers that allowed Szczesny to win his place back, and in the run-in, which saw the Gunners finish fourth, he looked better. His concentration had improved, he seemed more solid, and he made a number of saves which, in the end, proved extremely important.

But even then it wasn't clear who was going to start the new season in goal for Arsenal. Wenger chopped and changed during preseason. He shared duties, 45 minutes at a time, with Fabianski, but got the nod for the opening-day defeat to Aston Villa. His performance was shaky, conceding a penalty (although you have to ask more questions about the defenders who let the Villa man run through), and had a 30-second spell miles out of his goal, making last-ditch tackles while on a yellow card.

If eyebrows were raised, the last four games have lowered them somewhat. We've seen the post-dropping Szczesny. A player who looks switched on and confident, but not overconfident. He's on record as saying he doesn't dwell on mistakes and bad performances, and although some will say that's a flaw, the last thing you want is for a keeper to go to pieces when something goes wrong.

It's part and parcel of a goalkeeper's life. One of the reasons Fabianski hasn't made more of the talent -- which Wenger says is extraordinary on the training ground -- is because he's been unable to deal with pressure and the mistakes he's made. He worries, he crumbles, and it leads to spells of horrendous form.

Which isn't to say Szczesny is perfect -- far from it. His distribution needs a lot of work and he's still got to prove that he can perform consistently over a longer period. The back end of last season and the start of this season is little more than 10 games. If he can do it for a season, then we can talk about him fulfilling the potential he has.

But for a manager often criticised for not being ruthless, Wenger's decision to bench him in March might well have been the best thing that ever happened to Szczesny. It was a reminder that the number 1 on his shirt shouldn't be taken for granted and he changed his ways.

"I worked really hard to get back into the team," he said. "It was good decision by the manager. I worked on my fitness and sharpness and came in much earlier every day to work in the gym with the fitness coaches and the physios. There was a lot of stuff to be done -- I realised I wasn't in the best shape, but it all worked out pretty well."

People forget he's just 23 years of age, extremely young in the life of a goalkeeper, and over the next couple of seasons, all going well, he should mature into one of the best in Europe -- provided he remembers the lesson he was given last season.