Wenger clearly worth a new deal, Ozil or not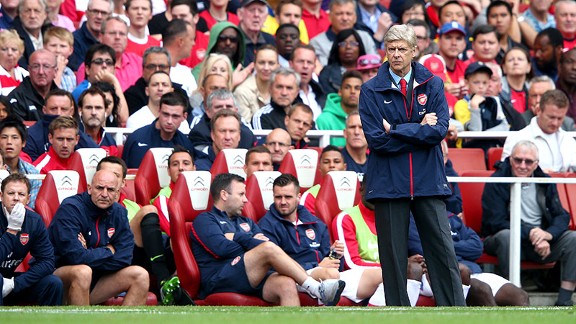 AllsportWith Mesut Özil now on board, the reported offer of a new contract for Arsene Wenger is a no-brainer.
Arsenal are riding on the crest of a wave atop of the two little dots over Mesut Özil's surname ever since they signed him.

And now, Arsene Wenger looks as if he is also hopping aboard as a few of the English Sunday newspapers have done an about-turn from "Arsenal in crisis" to the club offering him a new contract -- he's in the final season of his existing 7.5 million pounds-a-year deal.

I don't think it will come down to whether Arsenal got Özil, their 42 million pound record signing from Real Madrid. Trust me, there is an unshakable belief from the very top in Wenger. It does get tested from time to time. This summer was a hard few months. Ending up with no big-name striker may yet come back to haunt them.

Have Arsenal got the right formula for transfers? It must come down to each and every club. Tottenham were given so much praise for their appointment of Franco Baldini as a director of football. Yet, what is the acid test? What happens on the pitch. Arsenal won the North London derby.

In my view, the manager must have the final say on transfers, fees and contracts. He picks the team. There have been times, no doubt, when the Arsenal hierarchy wanted him to spend -- and yet Wenger was reluctant. He's always looking for perfection, be it value for money or in the player. In Özil, they've pretty much got it.

- Reports: Wenger new deal in the works

But the new contract talks for Wenger aren't exclusively because Özil has signed. That's a major boost for Wenger and his standing with the fans and therefore the club. It's more because the transfer window is shut. In other words, I believe that it was always just a matter of time. Arsenal have the right man in Wenger. Majority shareholder Stan Kroenke backs him 100 percent. It is clear that he has a good relationship with chief executive Ivan Gazidis.

Every relationship has its own problems. I get the impression they wanted him to spend more and there were frustrations. But the respect that he holds within the club is steadfast. Yes, a little tweak would be nice. Maybe for him to be less stubborn, stop regarding the money as his own. But people must understand that Wenger has come through a difficult period of moving to the Emirates, the funds were limited and now it's a new era. He deserves time and respect to embrace that new era. But embrace it he must.

That's why I think a new contract was always on the agenda for Wenger -- Özil or not. The feel-good factor has lifted the mood. The fans seem happy in the main, still frustrated that a striker was not signed, too. But the status quo remains the same: If results are good, then the fans will be happy. If not, they will not be happy that Wenger is talking about a new deal.

My only lingering small doubt is whether Wenger will actually sign a new deal. Paris Saint Germain are still hovering. I'm sure he probably will, but don't take it for granted. In fact, that's one thing I think will help: He must sign it sooner rather than later. It will reassure players, keep the positive mood going and also help attract other players to follow.

Getting a player like Özil through the door shows Wenger is thinking of the future. He's thinking of his future and enjoying it. There's an exciting new chapter to be written at Arsenal. Wenger needs a new striker to help him turn the page. That may come in January or next summer. Don't be surprised if they go back for Luis Suarez. Also, Germany (and German players) remain a happy hunting ground for Arsenal. I hear Arsenal also tried to get Real Madrid's Sami Khedira in the final few days. There were many targets. Özil was the prize catch.

Next up for Arsenal: keeping Wenger, keeping him happy and keeping the fans happy.