Arsenal unlucky to be one forward short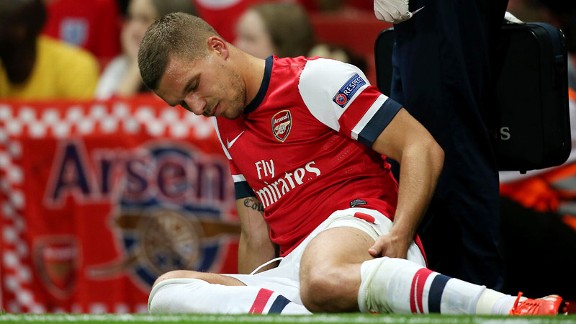 ADRIAN DENNIS/AFP/Getty ImagesArsenal got Mesut Ozil, but was unable to find a replacement for the injured Lukas Podolski, above, during the transfer window.
When Lukas Podolski charged down the left wing early in the second half of the second leg of Arsenal's Champions League qualifier against Fenerbahce, it looked as if the German international was determined to make his mark on the game.

A few seconds later he pulled up, clutching the back of his leg. Normally a hamstring strain might keep a player out for 3-4 weeks at most, so the news that he would miss up to three months was a big blow for Arsene Wenger's side.

It was one exacerbated by the club's failure to bring in a striker during the transfer window, and Arsenal have been left short in this position. With Podolski fit, the need wouldn't have been so pressing. Although not naturally the focal point of the attack, he's good enough and experienced enough to do a job there, especially with the quality of the players around him -- and the addition of the outstanding Mesut Özil to the squad.

-Ozil reaction: Arbeloa | Low
-Mou blocked Ba sale after Ozil move
-Bendtner disappointed to stay

It's clear the Gunners wanted a striker all summer with the Gonzalo Higuain and Luis Saurez mid-summer sagas which didn't come off, and on deadline day an ambitious/misguided move to do a deal with Chelsea over Demba Ba proved fruitless.

But when you look at the Arsenal squad, it's only this area that they appear really short. If anything happens to Olivier Giroud, they're going to struggle to cope, simply because there isn't a natural replacement in the squad. Theo Walcott can play there, but is far more effective out wide. They still have Nicklas Bendtner, ready to give his all after a peculiar but understandable statement, but the Dane isn't the most popular man at the Emirates and has undergone recent surgery so may be out of action for a little while.

Yaya Sanogo looks exactly what he is, a hugely inexperienced youngster making a massive step up from Ligue 2. And although former South Korean captain Ju-Young Park is still at the club, in the two seasons since he joined in a bizarre deal from Monaco, he's played a grand total of nine minutes of Premier League football. You get the feeling Wenger would play one of his keepers as a target man before he chose Park.

Yet, while the onus is on Giroud to remain fit, people wonder if the rest of the squad is good enough. The summer has been difficult, but when you look at the team's composition, it feels a lot better than it did a few weeks ago. Mathieu Flamini's arrival might have been opportunistic but it's also canny. The Frenchman is experienced, as he showed during Sunday's North London derby, and he also provides cover for the full-back positions on both sides.

It seems unlikely he'll ever play there, Arsenal are well covered in both positions, and Bacary Sagna can also fill in at centre-half. Thomas Vermaelen should return to boost defensive options after the international break. It's overlooked that Wenger's side had the second-best defensive record in the league last season, and have already kept three clean sheets in five games this season.

Mikel Arteta will come back into a midfield to play with Jack Wilshere, Aaron Ramsey, Tomas Rosicky, Santi Cazorla, Flamini and Özil. That's not a bad collection by any standard. The increased competition can only be healthy for the team, both in terms of keeping players sharp, and being able to properly rotate and rest players to keep performance levels high and avoid the injuries associated with fatigue.

So, if Podolski hadn't picked up his injury, Arsenal would even look reasonably stocked up front in the absence of a new forward. That's not to make excuses for the lack of a signing, it's probably something the club can analyse and learn from before January, but results -- four wins in a row since the Villa defeat -- have gone some way to convince people that the team is capable of getting results even when down to the bare bones.

With Özil on board, some of the absent players fit again and a bit of luck when it comes to injuries (especially up front), who knows what this side might do?