Flamini's return welcome, but underwhelming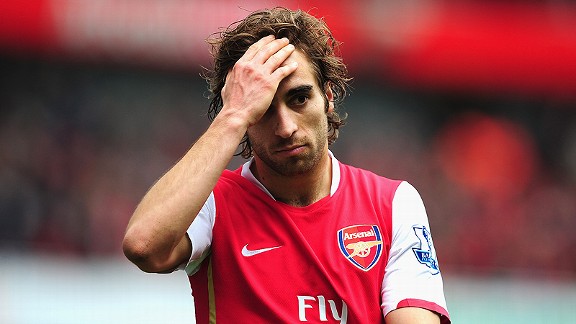 Shaun Botterill/Getty ImagesMathieu Flamini last suited up for Arsenal in 2008.
On one hand, Mathieu Flamini rejoining Arsenal feels more than a touch underwhelming. He left in contentious circumstances in 2008, and if his name had been put forward at the start of the summer, the idea would have been laughed at.

- Report: Flamini re-signs for Arsenal

I mean, didn't chief executive Ivan Gazidis say, "We can do things which would excite you?" It's extremely doubtful that Flamini is what he had in mind when he, in a rather hubristic manner, trumpeted Arsenal's financial firepower and transfer ambitions.

But now, with just three days of the transfer window remaining, and Arsenal in desperate need of players, it's easy to see why Flamini makes some kind of sense. He's experienced, he's versatile and ... erm ... he's free. Arsenal's favourite price!

He can cover in midfield and in both full back positions, and with Arsene Wenger seemingly not in the market for a central defender and thus reliant on using Bacary Sagna when necessary, this is not a bad thing at all. He's also quite combative, and Arsenal have been accused of being a bit soft at times. Some mettle in midfield is important in the most physically demanding league in the world.

However, as handy as the Frenchman is now, and may be throughout his second spell at the club, the signing hardly speaks to a cohesive plan. He was invited back to train with the club, not to prove himself as potential signing, but with injuries to Mikel Arteta, Thomas Vermaelen and Alex Oxlade-Chamberlain, a handy solution was right under Wenger's nose.

It means that the club, with massive spending power this summer, have still yet to pay any kind of transfer fee and are still running a profit due to income earned from players they've sold. It's hardly the show of ambition Gazidis bombarded the media and supporters groups with back in June.

When Samir Nasri and Cesc Fabregas were rumoured to be leaving the club back in 2011, Wenger said, "Imagine the worst situation -- we lose Fabregas and Nasri -- you cannot convince people you are ambitious after that."

Can you convince them of the same thing with the signings of Flamini and Yaya Sanogo? I don't think so. Not now, anyway. If, come the end of the transfer window, Arsenal have managed to add some of the "special" players that Wenger spoke about last week, then it will look a lot different.

The first team is good, but could be improved. The squad itself is very light. Not counting Flamini, they have just 12 "senior" outfield players to choose from this week, with raw youngsters like Ryo Miyaichi, Emmanuel Frimpong and Sanogo there just to make up the numbers.

Flamini certainly adds a bit of depth, but no more than that. If, on Tuesday, he's part of a bigger, more expansive squad, then it could look like smart business to bring him back home. Until then, it all just looks a bit desperate and last-minute.