Wenger counterattacking the critics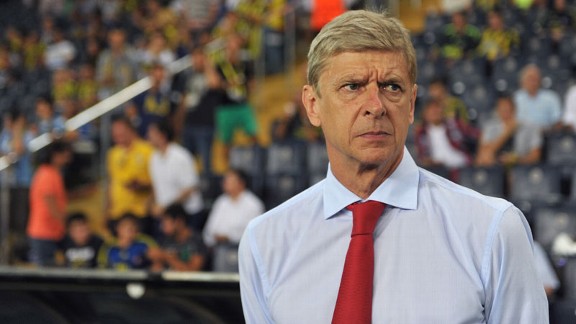 GettyImagesArsene Wenger
With three wins in a week, suddenly, the disastrous start to Arsenal's season is looking only like a blip. Despite the urgent need for reinforcements after more injuries were picked up against Fenerbahce on Tuesday, Arsenal fans have a lot more to be positive about going into Sunday's North London derby at the Emirates.

One man who has taken a lot of flak from all quarters recently is Arsene Wenger. I doubt that there is another manager in world football who is so willing to defend himself in the face of such criticism. The one thing the Frenchman has managed to maintain in his time at Arsenal is the team's style of play. With Wenger's passing-and-attacking ideology, Arsenal matches are rarely boring or difficult to watch.

-Video: Arsenal interest in Juan Mata
-Arsenal draw West Brom in League Cup

After such a painful and bizarre defeat on the opening day of the Premier League season, most managers would get their team to go back to basics. In many senses, Wenger did that with the team last season to go on the run of wins to make it into the Champions League. But this season, Arsenal haven't shied from playing a more expansive game.

Whilst the squad is still too small, apart from the castaway figures of Nicklas Bendtner and Park Chu-Young, those left in the squad generally deserve to be there. There were no major damaging departures this summer, and the team has clearly benefited. The players laid a platform at the end of last season -- not just points to qualify for Europe, but also having a settled team and becoming accustomed to each other's style.

The Arsenal midfield and forward line underwent a significant face-lift in 2012-13, and while there were occasional moments of brilliance, Arsenal didn't play with the collective fluency they've shown at times in the early part of this season.

Almost as a way of defying the critics, Arsenal are playing some brilliant counter-attacking football at the moment and have scored some excellent team goals in the first few weeks of the season. This graphic, showing the opening goal against Aston Villa shows the more direct nature of Arsenal's passing. The goal came from doing everything at pace.

That was showcased more dramatically at Fulham last weekend. There were numerous chances for Arsenal on the counterattack, with the third goal finally being a reward for the swift charges forward. Again, the move involved a few passes and Arsenal made use of having plenty of players charging forward. After Per Mertesacker's pass forward, Olivier Giroud, Theo Walcott and Santi Cazorla were all involved before Lukas Podolski swept the ball home.

With the pace Arsenal were attacking with, there were some suggestions that it was like the Arsenal of old -- Wenger's Arsenal of old that won trophies. Certainly last season, it felt like Arsenal were constantly slowing the pace and happy to take the sideways-pass option rather than look forward. Both Jack Wilshere and Aaron Ramsey are growing in confidence, and they're now looking forward more to launch quicker attacks, both by passing it or taking players on.

It remains to be seen how Arsenal face up to a team that leaves no space to run into and puts the majority of the team behind the ball. However, the pace at which Arsenal are attacking shows that the team are confident at the moment.

I understand the argument new signings could upset the team when they're playing well, but that is daft at this stage. Arsenal need players, because, otherwise, those who are doing well will burn out. Plus, it takes only a pinged hamstring -- as we saw from Podolski -- or a late tackle on a midfielder in full flow, and, suddenly, they're out for a long period of time.

After the Aston Villa defeat, Arsenal deserved the majority of criticism they got. However, the rebound has been impressive. Fenerbahce and Fulham might have been quite accommodating opponents at times during the past three games, but they have also both been subjected to some swift, old-school Arsenal attacks.

Wenger is always quick to counterattack in the face of media criticism. Now, his team have gone back to doing the same when under pressure on the pitch.