Resilient Ramsey shines as Gunners go through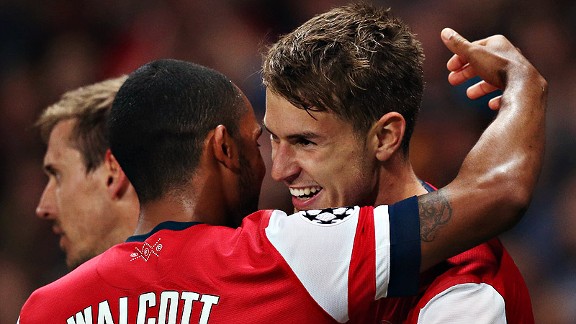 Adrian Dennis/Getty ImagesAaron Ramsey, right, celebrates his second goal with Theo Walcott.
Arsenal booked their place in the Champions League group stages on Tuesday night at the Emirates, defeating Fenerbahce 2-0 to complete a 5-0 aggregate victory.

The hero was Aaron Ramsey, who scored twice, and the transformation in his career in the last 12 months has been remarkable. After his horrendous injury, when his leg was snapped in two by Ryan Shawcross in 2010, he understandably found it difficult to come back to the required level.

-Gunners cruise thanks to Ramsey

For some reason, perhaps because of the frustration that surrounds Arsenal when things aren't going well, there seemed to be little sympathy for him and he was written off, and often roundly abused, by sections of the fan base.

It takes a lot of "mental strength" -- to use a term manager Arsene Wenger is fond of -- to come back from an injury as bad as that and swim against the tide of opinion. Ramsey wasn't blind or deaf to the fact that any mistake he made was greeted with moans and groans, but he refused to be beaten by it.

Lesser players might have buckled, faded away into the background -- we've seen that time and time again. Instead, Ramsey got his head down, worked hard, and in the final three months of last season he played an integral role in the run-in which secured the top-four finish Arsenal so badly needed.

Now, we're seeing a player flush with confidence and, as Wenger said after the match, "He's confident. He knows that people trust him now."

His first goal was a bit fortuitous, a case of being in the right place at the right time when a defender's tackle on Theo Walcott was poked into Ramsey's path. But the second was Ramsey making sure he was in the right place as Arsenal cut the Fenerbahce defence open, and his first-time, side-footed finish from Kieran Gibbs' pull-back was quite beautiful.

It puts Ramsey level with Olivier Giroud as the club's top scorer this season, and it's great to see. His development and form doesn't negate the need for a new midfielder or two, but he's showing the kind of promise that saw Arsenal pay 5 million pounds for him as a teenager from Cardiff.

If there was a downside to the night, it was the loss of Lukas Podolski with what looked like a bad hamstring strain. Afterward, Wenger said the German would miss three weeks, and the lack of options in the Arsenal squad meant Jack Wilshere had to play a full 90 minutes when the visitors spent the last 15 trying to kick him off the pitch.

A stronger squad wouldn't have had to risk playing important players in a tie they were already leading so comfortably, but now that qualification is 100 percent secured, perhaps Arsenal might dust off the chequebook.

Overall, a job well-done, but Wednesday morning -- and the assessment of injuries to Podolski, Ramsey and Wilshere -- will put things in better perspective.