A painful selection headache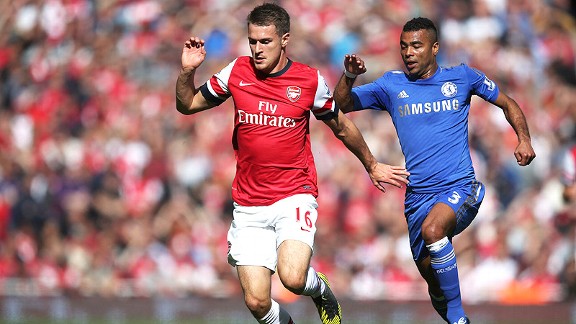 GettyImages / Richard Heathcote/Getty ImagesAaron Ramsey has settled in the Arsenal midfield, though Arsene Wenger's breadth of options in defense and attack is a double-edged sword.
After selling key players this summer, few expected Arsene Wenger to have the seemingly wide range of options in his squad that he currently has. However, the challenge for the Arsenal manager is to use those options appropriately.

I'm not suggesting that having choice is a bad thing. Last season, while it's true that Robin van Persie was a fantastic player, there were no other reliable alternatives in terms of team selection or style of play. If van Persie was fit, he played, and the rest of the squad had to play to him. Now, Arsene Wenger can play Gervinho or Theo Walcott with the intention of keeping the ball on the floor and looking to run in behind defences or deploy Olivier Giroud, who can hold the ball up better and make space for others.

Against Chelsea on Saturday, Gervinho got the nod. He scored a very good goal but still struggled in the main striker role. The team couldn't regularly keep the ball in and around the Chelsea penalty area because the Ivorian drifted around, unable to find the space for to spin in behind and have a run on goal. Giroud came on and missed a great chance, but did occupy the Blues' defenders and made space for other midfielders. However at that stage of the game, Arsenal seemed to lack urgency and there weren't any runners trying to take advantage of the space.

I think Wenger misjudged how Chelsea would play, meaning that Arsenal were always going to struggle to make some brilliant chances with Gervinho as the main striker. He works against teams with a high defensive line, but not against a team that can defend as deep, and as well, as Chelsea.

The other big selection choice Arsene Wenger now has to make for each match is at centre back. Per Mertesacker, ridiculed by many last season, has arguably been Arsenal's player of the season so far. Thomas Vermaelen is the club captain and has also been solid this season, while Laurent Koscielny was one of the best players for Arsenal last season.

Against Chelsea, Mertesacker was left out in favour of Koscielny and Vermaelen, a move that clearly backfired. Having looked at Chelsea's array of smaller players who like to keep the ball on the floor and make fast runs, it was understandable that the quicker Koscielny was preferred. However I think it would be wrong to type cast Mertesacker as someone that can only deal with the likes of Peter Crouch. The German was man of the match against Manchester City, who had the smaller Aguero up front; he also shut off Luis Suarez when Arsenal went to Anfield.

Mertesacker's reading of the game and organisation at set pieces has also been noticeable this season, making it especially frustrating that the Gunners' undoing against Chelsea came from dead ball situations. For both of the Blues' goals, Koscielny was caught out and didn't deal properly with the ball.

Hindsight is a brilliant thing as it makes it easy to say Mertesacker should have played. However I think that it would have been right to have played the defender in the best form against the league leaders and European Champions.

Arsene Wenger should be praised for constructing a squad that now has a strong range of options at the back and up front, but as the Chelsea match proved, he's not used to having to such choices for big games. It's felt in recent years like there's a set 11 players in the squad that, when fit, are guaranteed places on the team sheet; however that's no longer the case. Both in unity, and in options, Arsenal are much more of a squad this season.

But if the players aren't used properly, a good selection headache has the potential to become a nightmare.