Ramsey set to drive Arsenal's midfield engine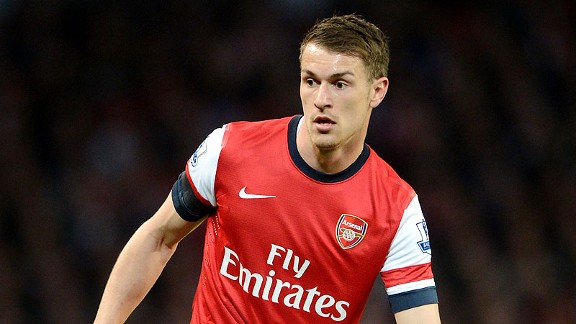 Michael Regan/Getty Images Aaron Ramsey's progress will be a focus for Arsenal fans.
Whilst there has been a lot of talk about how Arsenal are yet to significantly improve their squad this summer with the new season less than a week away, it is worth noting that the majority of the current players that remain in the squad are much improved compared to how they were at the beginning of last season. No-one typifies this more than Aaron Ramsey.

- Gustavo keen on Arsenal switch

After the likes of Eboue and Chamakh, Ramsey was in danger of becoming another Arsenal scapegoat. He was a player that never seemed to add anything to the team, which was especially frustrating as it was clear that the Welshman did have some talent waiting to come out. It seemed strange why Wenger kept picking him, especially when he made some appearances in an unnatural position on the left wing. Always regarded as a hard worker and someone who didn't hide, there was always a fear with Ramsey that he couldn't be defended for ever without showing some progress and having his talent emerge back into his game.

Given what he'd been through in his young career with an horrific injury, deep down I suspect fans were genuinely sad that the Welshman was struggling to break through and play like everyone hoped he would when he was signed from Cardiff for £5 million as a teenager.

However, last season could turn out to be the defining season for Aaron Ramsey. Had his form from the first half of the season continued, he could have found himself included in the end of season sales that has thinned the current squad. Instead, he's approaching the new season with a real chance to establish himself as a first team regular.

Lauded by some as a potential long-term replacement for Cesc Fabregas, Ramsey excelled in a more withdrawn role with less creative pressure last season. Learning from, and playing alongside, the more experienced Mikel Arteta benefited Ramsey massively as he was able to keep things simple as the team put more emphasis on the defence and being hard to beat.

In Arsenal's pre-season games, Ramsey has expanded his play away from just winning the ball and passing it simply. He looks to be building on the ground work he did to his game last season before doing the more expansive things. Beforehand, he was trying the extravagant before getting the basics right.

The centre of Arsenal's midfield is where there is most competition in the squad, and Ramsey will have to work very hard to hold down a regular place, but the situation at the start of the season could play into his hands. Jack Wilshere is still understandably being slightly protected by Arsene Wenger and Santi Cazorla has had a shortened pre-season from the Confederations Cup, and is going to Ecuador this week. With five games in three weeks, including the Champions League play-off with Fenerbahce, Ramsey is likely to start a lot of games as his impressive stamina will be needed to get Arsenal's thin squad through the vital early part of the season.

Should Ramsey do that well, the more technically gifted players like Cazorla and Wilshere, and any potential new arrivals (well, we can still hope!) such as the rumoured Luis Gustavo, might not find themselves as regular starters. Even if they do regain places in the side, Ramsey is now a much more reliable and trusted squad player to have.

This final week before the season does bring the fear of injuries on international duty. All Arsenal fans will be hoping that Aaron Ramsey's injury withdrawal for Wales is precautionary as Arsenal could really miss him in midfield. That's something people wouldn't have imagined this time last year.