City win positive, but players still required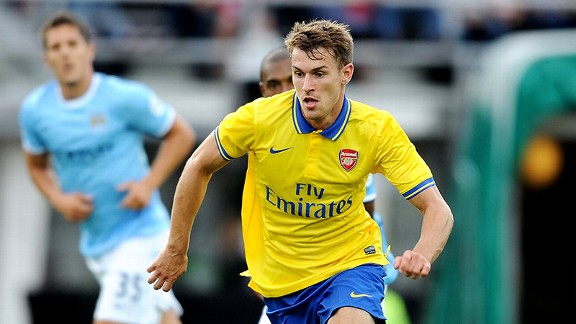 Stuart MacFarlane/Arsenal FC/Getty ImagesThe superb play of Aaron Ramsey sparked Arsenal to a 3-1 win over Manchester City in Helsinki.
Saturday's friendly between Arsenal and Manchester City was a chance to see two sides who have had very different summers.

The 2011-12 Champions replaced their manager and brought in some very good players, including forwards Stefan Jovetic and Alvaro Negredo. In contrast, Arsenal's close season has been one of frustration, with almost all the transfer action involving players going out of the club and only Yaya Sanogo coming in. Injury prevented the young Frenchman from taking part on Saturday, while all of City's new boys played some part in the game.

Arsene Wenger has spoken often about the faith he has in his squad and today, at least, that seemed to be well placed as the Gunners ran out impressive 3-1 winners. There's no doubt they thoroughly deserved the win too, and it will boost confidence going into next weekend's Premier League opener against Aston Villa.

The stand-out performer was Aaron Ramsey, who created the first goal for Theo Walcott with the kind of pass that you'd associate with Cesc Fabregas. It was a perfectly weighted, slide-rule ball which dissected the City defence, allowing Walcott to get behind and put Arsenal ahead.

Ramsey scored the second, starting and finishing a fine midfield move, and that end product, combined with his perpetual running and energy, shows that the Welshman is ready to pick up where he left off last season.

The third Arsenal goal came from Olivier Giroud, and while most of his pre-season strikes have come against part-timers in far-flung lands, this was a good goal against top class defenders and England's number 1 keeper.

Although Negredo pulled one back late, the Arsenal performance was typical of last season's run in. They looked compact and functional, worked hard without the ball to deny the opposition time and space, and used quick breaks to exploit their pace. It was also reassuring, solid and good preparation for next week's opener against Villa.

What it also showed, without wanting to beat the same old drum again, is that with the right additions this would be a seriously competitive Arsenal team. I've said all summer that the core of a good squad is there, but with just 16 or 17 first team players, they lack the depth to challenge for the title, coupled with Champions League football and the two domestic cup competitions thrown in.

On Saturday, Arsenal fielded a young Colombian midfielder, Sebastien Perez. He's been on trial with the club for the last week and his presence suggests one of two things. Firstly, that he's done enough to warrant a place in a game like this so close to the start of the Premier League season; or secondly, Wenger simply didn't have enough players and needed him to boost the numbers.

The truth may lie somewhere in the middle, but it's abundantly clear that new faces are required at Arsenal. It's hard to understand Wenger's reluctance to do business when you look at how well they played today. Bringing in the right players would certainly see his team have a good go at putting the trophy drought to an end.

All in all though, it was a positive day for Arsenal and after a summer of frustration it was nice to see them play well and win.