Fate hands Arsenal date with Higuain as striker search continues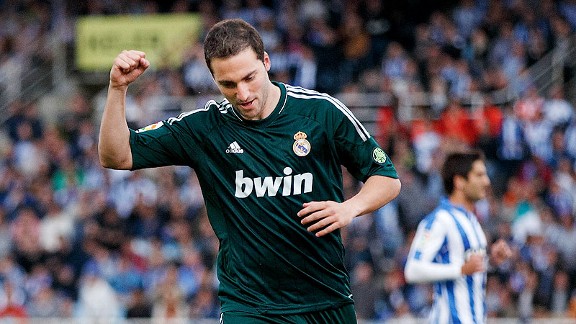 Gonzalo Arroyo/Getty ImagesFormer Real Madrid Gonzalo Higuain snubbed Arsenal to join Napoli.

Football seems governed by fate.

It just had to be that Arsene Wenger will face Gonzalo Higuain, the player who Arsenal tried to sign, in the Emirates Cup this weekend.

Argentinian striker Higuain will lead Napoli's attack against Arsenal at the preseason tournament Saturday afternoon. So that guarantees he will score a hat trick, then. It's the way it works.

Higuain was top of Arsenal's wish list for weeks as Wenger was suddenly able to wave his cheque book around while shopping in a different market.



But the deal fell through in typical Arsenal fashion as they squabbled over the fee, complained Real Madrid put the price up and off Higuain went to Napoli for £30 million.

Arsenal fans will rue him as the one that got away as anxiety and anger builds about Wenger's inactivity in the transfer market. So far, we've only had France Under-20 striker Yaya Sanogo sign for Arsenal after his contract ran out at Auxerre.

So what will we learn from the Emirates Cup? That Arsenal fans are fed up, the squad has not seen the big arrivals which were heralded by chief executive Ivan Gazidis when he talked of the club's new "financial firepower," and the team, despite the lack of new faces, looks quite sharp. Honest.

Arsenal impressed on their preseason tour of Asia, winning all four games, scoring 18 goals in the process. Olivier Giroud scored six of the goals as if to stake his own claim.

But that's not enough. The Luis Suarez transfer saga drags on. Arsenal have had a bid of £40,000,001 turned down. Liverpool are refusing to sell. Arsenal are refusing to give up. It could drag on until the last knockings of the transfer window.

Suarez is seen as more of a complete player than Higuain. That's why they are prepared to go above £40 million for him whereas £25 million proved a sticking point for Higuain.

Higuain is a deadly goal scorer. Suarez is more of an all-round marauding striker, even if he comes with baggage and a six-game ban after biting Chelsea defender Branislav Ivanovic last season. Arsenal's players and fans -- in the main but not universally -- would forget all that if he gets signed this August.

But Arsenal, in my view, need more than just a striker in this window to be proper contenders for silverware. They finished last season well, but that should not hide the fact they need a keeper, more defensive cover and a midfield anchorman. One superstar striker is not enough.

Arsenal have the money, but Wenger, once again, seems reluctant to spend it. There is almost a split personality within the club. The board want Wenger to spend. Wenger has always had an issue with big-money buys. His last record deal, £15 million for Andrey Arshavin, was overall a disappointment.

Wenger and Gazidis get on well enough. But the board have gone public that the money is there. The fans surely need to look at Wenger as the blame game begins for the lack of big signings. But the board will probably get stick, too.

Arsenal need a trophy. The Emirates Cup just isn't enough. A nice warm-up competition. But Arsenal need proper silverware. And without new signings, the fans won't believe. Then they will blame Wenger and then perhaps his bosses on the board for not having enough power to order him to spend.