Arsenal so close, yet so far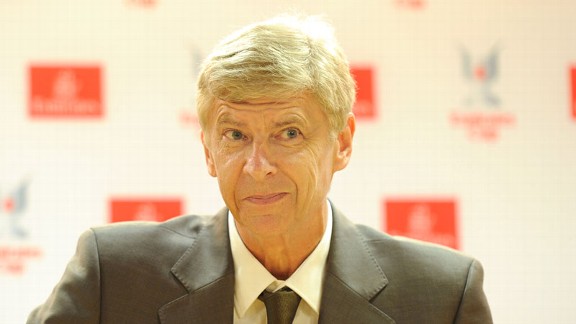 AllsportArsene Wenger's future remains uncertain as he stays focused on the task at hand.
Arsene Wenger today admitted his interest in Liverpool's Luis Suarez and said that his "case" was not the only one the club were working on.

Frustration is growing among Arsenal fans after a summer which has only seen Yaya Sanogo arrive. Interestingly, the Arsenal manager referred to him as a "top-class striker" when pressed by journalists, suggesting he might surprise a few people this season.

But on Suarez, Wenger said: "I don't want to talk specifically about Luis Suarez, because that is between Liverpool and Arsenal. We will completely respect what Liverpool wants to do. We want to do it if it is feasible in an amicable way."

- Wenger: Bale fee a joke; Suarez ongoing

And on Arsenal's needs elsewhere, he continued, "We work very hard, not only on the case you name, but on other different cases."

As an Arsenal fan, summer is something like a cross between Christmas Eve and Groundhog Day. There's the excitement, the anticipation and the hope that in the morning there'll be a shiny new player underneath the tree, but tomorrow is a carbon copy of the day before. Add to that the sensation of having an itch you just can't scratch, and that about sums it up.

It's trying because it feels like it wouldn't take too much to make Arsenal really competitive again. There is, despite all the negativity that surrounds them, the nucleus of a really good squad there. Nobody would deny they need a striker, but with Theo Walcott, Olivier Giroud and Lukas Podolski -- not forgetting Sanogo, of course -- they've got plenty of options.

In midfield, where they need somebody to share the workload at the base with Mikel Arteta, there's real talent and potential in Jack Wilshere, Aaron Ramsey and Alex Oxlade-Chamberlain, while Santi Cazorla and Tomas Rosicky add quality and experience.

At the back, Per Mertesacker and Laurent Koscielny made up the best central defensive partnership in England in the final months of the season. They're well covered with good, solid fullbacks; competition (short as it was) between Lukasz Fabianski and Wojciech Szczesny improved things between the sticks; and although Thomas Vermaelen's injury leaves them short right now, a signing would solidify things in a big way.

There's a reason Arsenal finished fourth last season. It's not luck or chance or a Tottenham implosion, it's because they were the fourth-best team in the country. The players they've rid themselves of contributed little or nothing to the last campaign, so they're essentially standing still right now.

Around them Manchester City and Spurs (and, to an extent, Chelsea), have spent big and strengthened. Manchester United are struggling to make signings, possibly because of David Moyes taking the sheen off a move to the champions, but the others add another layer of frustration to the Arsenal summer.

Without investment Arsenal are unlikely to improve greatly, even if Wenger makes a good point that some of his young players will be better with more experience under their belts. But more than anything, it's easy to see how Arsenal could go from a "top four" team to one that could push for the title.

It doesn't require massive surgery, just the addition of good players in the right positions. It sounds simplistic, but then so is Wenger's claim that he's only looking for players better than the ones he has. Isn't that the whole point of the transfer market?!

Arsenal have created a good platform on which to build. They now have to go from having a decent core to a squad that has the depth to compete over the course of a season. A squad that is competitive and can cope with injuries, suspensions, loss of individual form and all the other trials and tribulations a Premier League campaign brings.

If they were miles away it would nearly be easier to see the summer pass by with so little happening. Knowing how much impact two or three really good players would have makes it all the more difficult.

Still, we can only hope that Wenger, who is famous for wanting value, is biding his time and is as good as his word when it comes to Suarez and other cases. Because if not, frustration won't take long to turn to something uglier if points are dropped before new players arrive.