Nearing time for a Plan B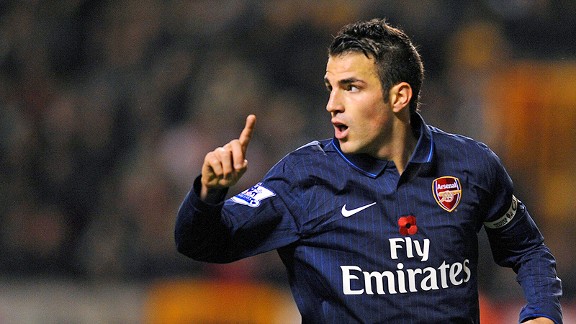 Paul Ellis/AFP/Getty ImagesShould Arsenal fail to sign Luis Suarez, could a move for former Gunner Cesc Fabregas be in the making?
With the flurry of news last week about a certain Arsenal transfer target, it seemed like the summer was finally getting going for the Gunners in the transfer market. However, with stories about Luis Suarez dying down and everything seemingly at an impasse, Arsene Wenger might well have to turn to Plan B sooner rather than later.

- Wilshere to stand out in Arsenal's streamlined squad

With the £40,000,001 bid for Suarez and the reports of his desire to leave Anfield, it felt like just a matter of time before the Uruguayan came to Arsenal. However, now there appears to have been a truce about the confusing release clause in the contract; Suarez isn't forcing his way out of the club and Arsenal aren't forcing the issue over a bigger transfer fee, so it's difficult to see that transfer going anywhere fast. Arsenal have appeared to have put so much effort into the deal for Suarez that I fear a Plan B isn't in place should the marquee signing not come off. As we head into August, the season is rapidly approaching so now is the time to execute the plan, if there is one at all.

One of the problems could be that Suarez was the Plan B in the first place after the Gonzalo Higuain deal disappeared. For many, he was the preferred choice as a big-name striker, and it will grate with a lot of Gooners that he is likely to grace the Emirates pitch in a Napoli shirt at the Emirates Cup this weekend. Of the star strikers also linked to Arsenal this summer, Wayne Rooney is a name that also splits opinion among Gooners. With the interest from Chelsea, any potential to sign him seems to be diminishing.

One possible Plan B that does give me some intrigue is Cesc Fabregas. Unsurprisingly, Barcelona have been adamant about not selling him despite the interest from Manchester United. With David Moyes rumoured to be preparing a bigger bid, it's worth bearing in mind the Arsenal buy-back clause. I doubt the Catalans will want to reach an agreement with United, but as has been said on this blog before, Arsenal would be daft to not utilise the option of signing Fabregas if the chance to arose. It seems like a risky strategy if Wenger is waiting for something to happen with Fabregas, but it would be a surefire way to get fans back on his side.

Apart from the names that have been well documented in the press, the waiting game Arsenal are playing means that there is increasingly a worrying shortage of options for a new striker. With the proclamation earlier in the summer of big money being there to spend, the disappointment for many will be palpable if the only new face is a freebie, Yaya Sanogo. Looking around the Premier League and Europe, a lot of potential targets such as Christian Benteke, Higuain, Stevan Jovetic and David Villa have all either moved or committed themselves to their current club. Roberto Soldado has been strongly linked to Tottenham, and with the North London neighbours being occupied by their own transfer saga, the lure of Champions League football could make Arsenal a good option for him, should the club act fast and make a bid.

Dangling the Champions League carrot does give Arsenal some advantage in the transfer market, but it could also be an explanation for the delay in deals so far. The last time Arsenal were in the qualifying round for Europe's main competition, a trolley dash ensued after qualification was finally assured against Udinese. While important points need to be gained in the league at the beginning of the season, I fear that significant additions might not be made until after the second leg of the qualifying round near the end of August, and might not be made at all should Arsenal fail to advance.

If Plan A is Suarez, Plan B could inadvertently be a repeat of the ill-advised, but ultimately much needed, trolley dash of 2011. Hopefully it won't come to that, but are there any quick runners out there who want to volunteer to push the trolley past the bargain bins? You might be needed for two days at the end of August if Arsenal and Wenger don't make some decisions soon.