Wilshere to stand out in Arsenal's streamlined squad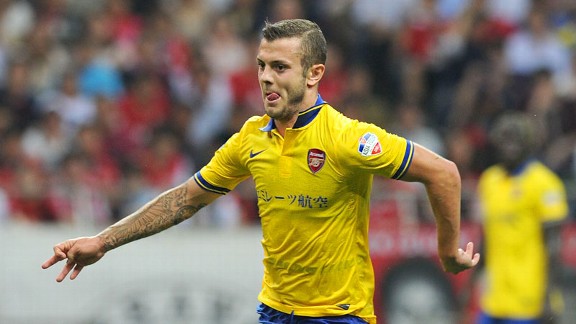 Stuart MacFarlane/Getty ImagesA healthy Jack Wilshere will be critical to Arsenal's chances of success in 2013-14.
Naturally, at this time of year, Arsenal fans are focused on ways to strengthen their squad. As it stands, the only arrival thus far has been 20-year-old Yaya Sanogo from Auxerre. Without casting any aspersions on the young man, who is reportedly a very talented player, it's hardly the statement of intent that Arsenal fans were hoping for.

- Suarez to Arsenal would be a 'surprise'

However, while the wait goes on and frustration grows, the other side of the club's transfer business has been carried out with great efficiency. There have been exits galore, which seems to suggest that there is something of a plan in place. Arsene Wenger looked at his squad, saw that it was bloated with players who contributed little to nothing at all, and they've been moved.

Gone, for various reasons, are Andrei Arshavin, Sebastien Squillaci, Vito Mannone, Francis Coquelin, Johan Djourou, Andre Santos, and Denilson. Others, such as Gervinho, Marouane Chamakh, Park Chu-Young, Nicklas Bendtner and Emmanuel Frimpong are likely to leave also.

The departures certainly highlight the deficiencies in Wenger's squad, not to mention the need to add players, but it also suggests that the Arsenal manager needs to get more out of the players he's decided to keep.

From an attacking point of view, Olivier Giroud and Lukas Podolski need to build on their first seasons in English football. There can be no more talk of adaptation, and if they improve on their goal/assist tallies -- even if a new striker comes in -- it'll mean a much more productive Arsenal side in front of goal.

I'll admit that I was one of those who scoffed somewhat when Robin van Persie said Theo Walcott was capable of becoming a 20-goal-a-season player. I just couldn't see it, but last year, Walcott got 21 in all competitions. Now, to prove he's really developed as a player, he's got to do it again (or at least come very close).

Yet, it's in the midfield where there's plenty of real potential. Hopefully Aaron Ramsey can continue where he left off last season -- he proved plenty of people wrong as his energetic, hard-working performances dragged Arsenal into fourth place. Many had written him off and his form had dipped quite considerably, so credit to him for knuckling down and putting things right.

However, all eyes will be on a fit Jack Wilshere. The England man's career has suffered a series of injury setbacks, but he's getting a good preseason under his belt, and any Arsenal fan that isn't excited about what he can do if healthy and match-fit must be living a different world.

When Cesc Fabregas left Arsenal in 2011, he said on Twitter, "I don't understand fans telling me we need a replacement after my departure when we've got one of the best three young players in the world."

Write it off as Fabregas trying to play down the acrimony that took over certain aspects of his departure, but he wouldn't heap that kind of a pressure on a friend and former teammate if he didn't believe it to be true. It would have been water off a duck's back for Wilshere anyway, but in the last couple of years -- as knee and ankle problems prevented him from finding the rhythm and form players need to perform at their very best -- his potential seems to have been somewhat forgotten.

There's certainly an element of "out of sight, out of mind," but make no mistake, Wilshere is a fantastic talent who could help Arsenal's midfield. Leaving aside his combative nature and his desire to get forward and run at defences, he's got a creative side which few others in the current lineup possess.

It will be interesting to see how he and Santi Cazorla work together. When both are fit, they're good enough to be starters, so one of Wenger's big jobs this season will be to find a place for both. For all the problems a manager faces, this is the best kind. A surplus of talent and quality is never a problem if you can keep both players happy.

I suspect there'll be caution at first. Overplaying Wilshere in the past contributed to his injuries, but if he can prove he's capable of playing consistently -- sometimes as many as three times in a week -- then his ability will merit him heavy playing time for the Gunners this season.