Midfield competition makes for a healthy Arsenal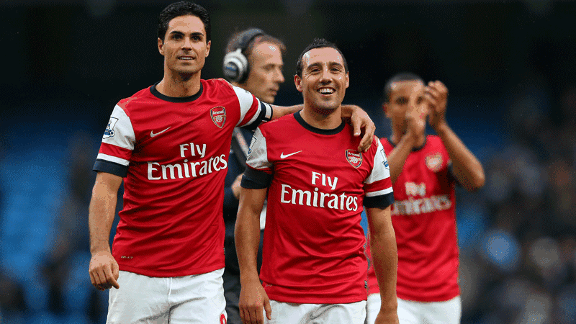 GettyImagesSanti Cazorla continues to consistently impress in an Arsenal shirt


It's funny how quickly things can change in football. Last season, without the injured Diaby and Wilshere, and following the departures of Fabregas and Nasri, the Arsenal midfield was a fairly barren place.

Although Mikel Arteta came in, and due to his experience and quality was rock solid, others suffered. Aaron Ramsey was too soon given the burden of replacing the attacking verve of Cesc and as the season went on faded in terms of performance and confidence. And while Alex Song took it upon himself to provide some creativity, even his staunchest supporters would have to admit it came at the expense of the defensive side of his game, and as such we suffered for that at times.

Without a true creative outlet or a disciplined anchorman Arsenal's midfield was an area through which opponents could often find joy; the team looked disjointed and easy to pick apart far too often. So when Arsene Wenger allowed Song his 'dream' to go and join Barcelona, then didn't sign a defensive midfielder, it's little wonder there was concern from fans.

But the Arsenal manager pulled off both a transfer coup - nabbing the outstanding Santi Cazorla from cash-strapped Malaga - and a tactical masterstroke with his decision to move Mikel Arteta into the defensive midfield role. Arteta said of the decision this week: "Playing as a defensive midfielder was a big transition but it is more a mental thing. The boss is convinced that is the best thing for the team and I am, too, so let's do it."

His willingness to move back is, at 30 years of age, an interesting one. Although it's a demanding role it's one that will allow him to extend his career as the pace of midfield in modern football increases. He's also helped by having Cazorla ahead of him, somebody whose impeccable touch provides attacking assurance and the ability to maintain possession in dangerous, attacking areas.

With Abou Diaby fit again, the manager has created a well-balanced midfield with a great mix of technique, power and experience. But what sets this midfield apart even more from last season is the competition for places that exists. Too often in the last campaign it was a case of fitting square pegs into round holes, or the square pegs trying to fit themselves into those holes, yet now the manager has real choice and more options than he probably knows what to do with.

"You can never have too many good players," he said at his pre-Chelsea press conference, and it is the best kind of problem for a manager to have. He's got Jack Wilshere coming back who can play between the defensive and attacking midfielder, Aaron Ramsey can do likewise. Emmanuel Frimpong is back from injury and the development of the impressive Francis Coquelin continues apace providing a real alternative to Arteta.

Then there's Alex Oxlade-Chamberlain, deployed more centrally in pre-season with the manager's long-term view of him in that position rather than as a wide forward, not to mention the soon to return Tomas Rosicky and the '200% committed' Andrei Arshavin as potential stand-ins for Cazorla. You wouldn't call it an embarrassment of riches, there's nothing embarrassing about it and many will say it's about time Arsenal had that much choice.

What it means though is that players can be rested with more confidence, not played into the fabled 'red zone' as they have been previously. And most importantly, it means the incumbents know they have to maintain a level of performance if they want to keep their place in the team. There are good, hungry players behind them waiting for their chance and looking to take it when it's presented.

It's a far cry from last season and amazingly it has been done with minimal changes in personnel. The sale of the player many considered Arsenal's most important midfielder was countered by just one signing, Cazorla, and if you need a better illustration of the genius of Arsene Wenger, I don't have it.

Ideally there'll be enough football for everyone but inevitably the form and quality of some will make it difficult for others. That, however, is the reality of life at the top level and Arsenal fans should have no issue with a system that will see the cream rise to the top.