Starlet Gedion Zelalem excelling on Arsenal tour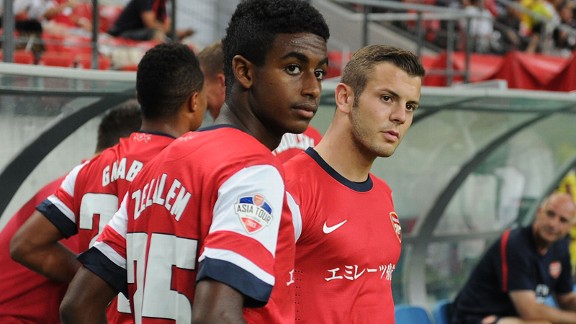 GettyImagesArsenal's Gedion Zelalem and Jack Wilshere against Nagoya Grampus.
Arsenal looked impressively fit during their 3-1 win over Nagoya Grampus on Monday. The training has been intensive and after run-outs against opposition that provided little in the way of a challenge, it was good to see the team looking so sharp.

Olivier Giroud continued his fine preseason with another good goal, but the story of the Asia tour is the emergence of youngster Gedion Zelalem. Discovered by North American scout Danny Karbassiyoon, the Germany U16 international was fast-tracked onto the tour, and has caught the eye in every appearance.

- Wenger cools Bernard speculation

His calmness on the ball is really something, as is his ability to see openings. Many players can spot the run of a teammate, but few can find the right pass with such precision and weight. It's a dangerous comparison to make, because there's a tendency to over-hype young players, but it's little wonder that people are mentioning him in the same breath as Cesc Fabregas.

The Catalan's potential was obvious, from the very first game he played for the club, and it's hard to ignore what Zelalem has been doing on the pitch. You can qualify it by playing down the quality of the opposition, but that misses the point. There are established, senior players not doing what he does, and although he's some way from the first team just yet, his name is written in bold (and underlined) in the "ones to watch" column.

Arsenal are always keen to play down hype over young players. Arsene Wenger famously referred to Johan Djourou as "He who must not be named" when the Swiss arrived at the club, but sometimes a player's performances make that practically impossible. The buzz around Zelalem is based on his performances, not his potential, and he's showing why he's so highly regarded by the Arsenal coaching staff, who have been raving over him since his arrival.



Meanwhile, Laurent Koscielny missed the game against Nagoya Grampus with an ankle problem, leaving Arsene Wenger with just one fit senior centre half. Bacary Sagna was pressed into action alongside Per Mertesacker and the Frenchman played well, but as all the focus is on which striker Arsenal might buy, the need for at least one defensive addition is obvious.

Captain Thomas Vermaelen is likely to miss the first couple of months of the season with a back problem, meaning an injury to Mertesacker and a suspension for Koscielny could leave the Arsenal manager without any recognised centre halves. It seems unnecessarily risky, especially with another four preseason games to go.

There's no doubting Arsenal need, and want, a striker but they do have Giroud, Lukas Podolski and Theo Walcott who can do a job until that man arrives. The need for defensive reinforcement is far more pressing, and with just more than three weeks until the first game of the season, Arsenal fans will be hoping no misfortune befalls them.

Considering the funds the club have available, it's not the healthiest of situations. There should be no need for any reliance on stopgaps when they could, easily, strengthen the squad with a signing.

Finally, and on the subject of signings, six senior Arsenal players have made public statements about how they want the club to bring new players in. It's not unusual for one player, or maybe two, to mention the impact of potential new players, but when Mikel Arteta, Jack Wilshere, Podolski, Giroud, Bacary Sagna and Wojciech Szczesny all make it clear they'd like to see the squad improved, then you know there's something up.

Ideally, they've heard what's going to happen and who's going to arrive, and are so excited they can barely not talk about it. Conversely, they might be worried that the season is approaching and nothing has been done. Arsenal fans will hope it's the former, but fear the latter.

The truth is probably somewhere in the middle. It's interesting, however, that there's such widespread acceptance that new players are required if the "trophy drought" is to be brought to an end.