Higuain, Rooney or Suarez the best fit for Arsenal?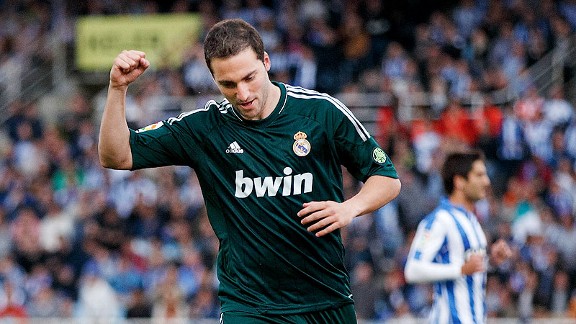 Gonzalo Arroyo/Getty ImagesFormer Real Madrid Gonzalo Higuain snubbed Arsenal to join Napoli.
As Arsenal fans wait for the first major signing of the summer, the focus (in the media at least), is on which of three big-name strikers Arsene Wenger might go for.

The list, as it is, comprises Gonzalo Higuain, Wayne Rooney and Luis Suarez. Liverpool confirmed they'd rejected an Arsenal bid for the Uruguayan, Arsene Wenger admitted interest in Rooney just last night, while the Higuain saga seems to have been playing out all summer with various family members of the Argentine suggesting a deal with Arsenal was drawing closer all the time.

In fact, it seemed that everything had been done a couple of weeks ago. The talking heads were on radio and TV proclaiming what a great combination Higuain and Arsenal would be, and to my mind he's still the best option for Wenger's side.


Although it's apparent Real Madrid are holding out for more money (and who can blame them when they see the kind of cash being splashed on top strikers this summer?), I firmly believe he's the best fit for the way Arsenal operate, both on and off the pitch. Yes, the Gunners have more money than they did before, but it's not a bottomless pit and they have to be mindful of how they spend it.

This is why, for all his footballing talent, Suarez is a huge gamble. It's simply not possible to analyse his potential transfer without taking into account his behaviour. I don't want to go into the nuts and bolts of the Patrice Evra incident, but at best you could call it extremely unsavoury. The brush of racism tars deeply and forever, and his subsequent eight-match ban left very few outside Liverpool complaining that it was harsh.

At Ajax he bit an opponent and received a lengthy suspension during which time he left for Liverpool. Last season he bit Branislav Ivanovic and now, while suspended for a total of 10 games, wants to do to the Anfield club what he did to Ajax. He's made quite public his desire to leave.

Can Arsenal really spend £40 million on a player who may get fed up, bite someone and try to force through a move elsewhere? It's a risk, but the bigger question is that although he's an extremely gifted footballer, doesn't the fact that he picks up long bans on a fairly regular basis have some impact on his value? If Arsenal did sign him, he would miss the first six games of the season. Further indiscretions will see him receive little mercy from the games ruling body, that's the reality.

People claim that he's a much better player than Higuain. This piece of analysis from Arsenal blogger 7amkickoff proves that the Argentine is a much more efficient striker. He scored fewer goals last season but also with far fewer shots. He spent last season rotating with Karim Benzema (part of why he wants to leave), and sharing a team with Cristiano Ronaldo - Suarez was Liverpool's only real goal threat. Higuain still got 19 goals from 30 starts.

The season before last, Higuain scored 32 goals in all competitions to Suarez's 17. 'Higuain doesn't do it in the Champions League', they say. Suarez hasn't played in the Champions League since 2010 where he got one goal in five games (but still managed three yellow cards in that same period).

So to suggest Suarez is a far superior player to Higuain is a long way off the mark. Some point to his will to win, his desire, his passion, but many players have those qualities and don't end up embroiled in racist/biting incidents. On Newstalk radio, Spanish football correspondent and ESPN FC writer Graham Hunter described Higuain as a guy 'who would go to war for his team,' yet he manages to do so without ban after ban after ban.

To my mind £30 million, or even £35 million for Higuain, represents a much better deal for Arsenal than £40 million for Luis Suarez. You get a top class striker with none of the baggage, far less risk that this extremely expensive investment will sit out important games because of his own stupidity and childishness, and somebody who will fit into the Arsenal squad far more easily than a guy whose character demands the team plays around, and for, him.

I haven't mentioned Rooney in this equation because I don't think he's a realistic option. Chelsea is pretty much nailed on for him, the manoeuvring and media leaks suggests that things are fairly advanced there. Would Rooney really choose Arsenal anyway?

But if Wenger has a choice to make between Higuain and Suarez, I sincerely believe he should go with the former. Arsenal have the financial resources to make it happen any time, and they ought to get it done as soon as possible before somebody else swoops and leaves them with a much more unpalatable option.