If there's a chance, bring back Cesc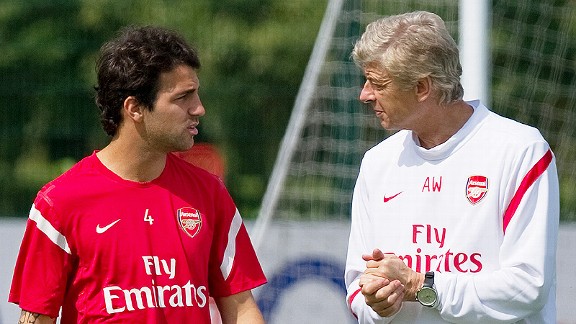 Leon Neal/AFP/Getty ImagesArsenal would benefit if Cesc Fabregas and Arsene Wenger were reunited, however slim the chances of it actually happening may be.
Having lost out on Thiago Alcantara, who chose to join Pep Guardiola at Bayern Munich, reports Monday suggest that Manchester United are moving for former Arsenal man Cesc Fabregas.

On the face of it, it looks unlikely. Thiago was one of the most promising young midfielders at the club, and it's hard to imagine Barcelona would be willing to let a player of Cesc's experience and calibre go in such circumstances. To lose one quality midfielder might be unfortunate -- two would be downright careless.

-United bid 30 million pounds for Fabregas
-Payne: Old Trafford perfect spot for Cesc
-Wenger: My heart is with Arsenal

Not to mention the fact that Xavi can't go on forever and, despite the perception that it hasn't quite worked out for both parties since his 35 million-pound move from the Gunners two years ago, Fabregas has been an important player for the Spanish champions. He's made 86 appearances and scored 26 goals in two seasons, hardly peripheral.

It's true there's been some tension from the Camp Nou crowd, but on purely footballing terms he's done well. Yet imagine for one crazy moment that Barcelona decided they could live without him, that they'd cash in based on what United offered. It tells the player he's expendable, and nobody really wants to work where they're not wanted.

To me that would mean just one thing: a green light for an Arsenal bid. When they sold him to Barcelona, they included a "first-option" clause, which means that should the Catalans wish to sell, Arsenal have the chance to get in there and get him back before anyone else.

Some might ask whether Arsenal need him back. But what's obvious is that Arsenal need to improve their squad considerably to win things again. So the better question is: "Would Cesc Fabregas improve Arsenal?" And the answer to that is a resounding yes.

Imagine an Arsenal team with Fabregas threading balls for Theo Walcott to run onto, providing inch-perfect passes for Gonzalo Higuain, and adding the goal threat and creativity from midfield that has been missing since he left. Although Jack Wilshere has the potential to make up some of that shortfall, it's hard to rely on him after two injury-plagued seasons.

Mikel Arteta provides the platform, Aaron Ramsey the engine, and while Santi Cazorla and Tomas Rosicky are creative (the former far more often than the latter), nobody picks a pass like Fabregas can. At times last season Arsenal were crying out for a player who could spot the chance, see the opening or create something that might make the difference in a game -- the fact that the campaign was such a struggle is related to the lack of such a midfielder.

There may well be doubters, those who say the way he left means he's burned his bridges. Nonsense. Players leave clubs in far more contentious circumstances, and Arsenal have to take their share of the blame for dragging out a deal they knew was going to happen, leaving them little time to react and replace.

If people are willing to overlook the frankly reprehensible behaviour of Luis Suarez because of what he might bring to the team from a footballing point of view (I'm not one of them, by the way), Fabregas has little to answer for.

Arsene Wenger says the club are "working hard" on new signings to improve the squad, but nothing's stirring just yet. He says he can't give any information on "spectacular" signings, but while the chances of a Fabregas return are extremely slim, Arsenal would be foolish to let the chance pass them by if it did present itself.