Strong squad players score six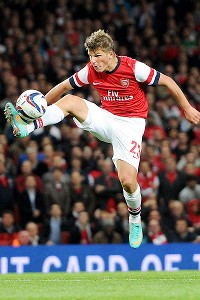 GettyImages / David Price/Arsenal FC via Getty ImagesAndrei Arshavin scored one of Arsenal's six goals against Coventry City in the league cup.
League Cup nights at the Emirates have produced some of the most memorable matches at the new stadium. The club slash tickets prices, enthusiastic youngsters get a chance to prove themselves, and the atmosphere is more relaxed with lowered pressure and expectation.

The visit of Coventry was slightly different, as there was a greater focus on the more experienced players getting some much needed time on the pitch, alongside the youngsters. The home fans came expecting a thumping victory, and in a lacklustre first 40 minutes, the atmosphere was subdued with Arsenal struggling to find any rhythm going forward. That all changed when Olivier Giroud delicately chipped the goalkeeper to get the goal scoring monkey off his back. It was the first piece of quality attacking play, and a relief to everyone in the ground, especially Giroud himself. He didn't snatch at the chance as if he was desperate for a goal, but looked like an in-form striker.

Once again, Giroud did some unnoticed dirty work for the team by closing down defenders and winning headers going forward. Therefore it was a shame that he couldn't bag a brace with a penalty. Before taking the spot kick, two 'fans' ran onto the pitch causing a lengthy delay. I think it put the Frenchman off slightly, and the penalty was duly saved.

Hopefully he can block that out of his mind as everyone in the stadium was so pleased and relieved for him to score, that we don't want him to have taken one massive step forward, and then take two steps back.

The second goal came soon after though with Alex Oxlade-Chamberlain's stunning strike. He had an indifferent evening, but the power he generated from distance was incredible. That goal gave Arsenal the cushion they needed to be more relaxed on the ball, and the goals started to flow.

Andrey Arshavin was typically Arshavin-like with a few moments of frustration, but moments of utter brilliance. He looked lively playing behind the striker, and took the third goal superbly after a perfectly weighed assist from Giroud. Whilst it's difficult for someone like Arshavin to break into the starting XI, he's a fantastic player to have available in the squad, and when used in short bursts, he can be incredibly dangerous. Some of his worst performances for Arsenal came after he'd been burnt out; that shouldn't be a problem this year with Cazorla in the squad.

Theo Walcott added the fourth, and a late sixth, with Ignasi Miquel scoring a fifth in between with a determined header. Having briefly been in the team last season, it was another chance for Miquel to confirm his place in the defensive pecking order ahead of Sebastien Squillaci. His performance strengthened my view that the centre of our defence is rapidly becoming the strongest facet of the squad.

Despite scoring two goals, I found myself getting annoyed by Theo Walcott, admittedly a bit too annoyed than was probably necessary. However for most of the game, the team looked unbalanced because Walcott tended to drop inside towards Olivier Giroud a lot. It left young full back Martin Angha with fewer options when breaking forward. I'm not sure if Walcott had been instructed to do that, or was trying to prove a point that he should be a striker, but it seemed strange to me to effectively not have a right winger.

With his back to goal, Walcott's touch and vision is still not good enough for the central striker position that he wants, and has said that his new contract is dependent upon. With the way Arsenal play, he isn't the right man to drop off and hold the ball up or link the play with the midfield. As Coventry tired, we saw the best of Walcott. He's at his most dangerous on the shoulder of the last defender and being played through to be one-on-one. Those sorts of chance are likely to happen later in matches, so to get the striker roles he craves at Arsenal, I think Walcott will be limited to being moved there if a match becomes open or stretched.

Having scored his first goal, Walcott was suddenly full of confidence again, emphasised by his good run and finish for the final goal. I'm desperate for Theo Walcott to do well, hence why I was being slightly harsh to him during the match, and against Coventry he showed again that he's excellent in front of goal. However his positional awareness still isn't as good as it could be. I want him to stay, but I think he'll have to compromise on getting the chance to regularly play up front.

The only disappointment was to concede a goal. Unsurprisingly, it came from the Coventry right, with Andre Santos nowhere to be seen at left back. It's entertaining having Santos in the squad, but Kieran Gibbs won't lose any sleep about his place in the team after the Brazilian's performance against Coventry. Whilst Theo Walcott's positioning might be occasionally dodgy, Andre Santos just seems to play where he wants.

Despite the slow start, it was another entertaining League Cup night at the Emirates, and a very useful match for players to find form and fitness. Playing in the Capital One Cup might make those who played feel like just squad players, but with more relentless and clinical attacking as we saw in the second half, they'll force themselves back into Arsene Wenger's already impressive looking starting XI.