Suarez bid a tactic in Arsenal's Higuain pursuit?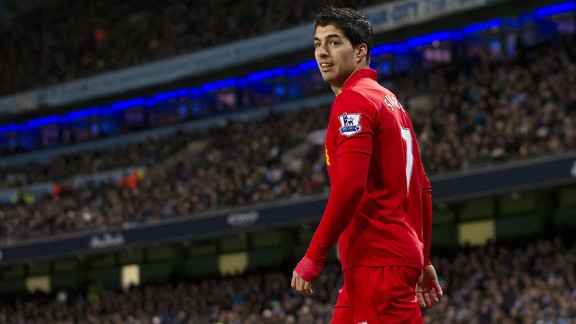 AssociatedLiverpool striker Luis Suarez is expected to say goodbye to Anfield but probably won't say hello to Arsenal's Emirates Stadium.
Transfer stories can often easily be dismissed as rubbish, speculative or just plain weird. The rumours regarding Arsenal's latest target could fall into the latter category, but there appears to be something to the widespread reports that the Gunners launched a £30 million bid to sign Luis Suarez from Liverpool.

Unsurprisingly, Liverpool immediately rejected the offer, and when one considers the Reds paid out £35 million for Andy Carroll, who can blame them for not wanting to sell a much better player for much less than their £50 million valuation? However, even if Arsenal did have a bid accepted for Suarez, it is unlikely the striker would swap Anfield for the Emirates, as he seems to want to escape England.

- Arsenal bid for Suarez rejected - reports

That said, the fact that Arsenal are being linked with players of such quality and tabling bids of such considerable value is positive news. Even if the Gunners do not return with an improved bid, it's evidence that there is a transfer war chest to dip into if required. Or is it just an unfamiliar tactical move from the Gunners?

There's no doubting that Suarez is a quality player. He was up there with Gareth Bale and Robin van Persie for Player of the Year honours last season and often had to carry the Liverpool attack. However, his ability with a football is far from the be-all and end-all with Suarez. The racism case and biting incident have been well-documented, and those moments make supporters dubious as to whether they'd want the Uruguayan to pull on their club colours. Gunners fans want Suarez's skills, but not the controversy.

It would also be a surprise if Suarez were the club's main striking transfer target. With some fans being impatient about securing the signing of Gonzalo Higuain after numerous media reports that a deal was close, it would seem extremely un-Arsenal-like to sign both Suarez and Higuain for a combined total of over £50 million.

With Real Madrid reportedly interested in Suarez, Arsenal's bid for the Uruguayan appears to be a tactical one, to speed up Carlo Ancelotti's team selling Higuain. It sends a message that there is interest in Suarez and that Madrid must act quickly to secure their man. Offloading Higuain would help finance a deal for Suarez.

All this doesn't seem like Arsenal, though. The club are a closed shop when it comes to transfer dealings, usually keeping them quiet. If the Gunners had made a club-record bid for someone like Suarez, and were serious about signing him, they'd do their utmost to keep that on the down-low. I'd be staggered if the Gunners leaked the news themselves.

So the reports of a Suarez bid lead to more questions than answers about Arsenal's potential transfer dealings this summer.

Suarez is one of the best players in the Premier League, but there would be a large amount of unease among Gooners if he joined the club. As one of the most universally disliked players in the league, it would take a long time for him to win the full backing of the supporters.

If the reported bid for the Liverpool striker is a tactical move, I suspect Arsenal fans would be much the happier; it could speed up the arrival of Higuain, and while the Argentine is not proven in the Premier League, it would not feel like Arsenal was signing a liability.