Arsenal's land of new hope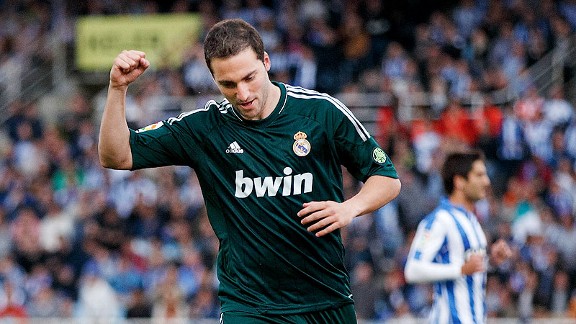 Gonzalo Arroyo/Getty ImagesThe usual Arsenal summer of despair could change to delight with the arrival of Gonzalo Higuain.
Arsenal fans know well the feeling of slipping from hope to despair. Hope lives in August, by November there's more despair than a youthful Morrissey channeling his inner Ian Curtis.

Transfers can go the same way. There's hope that this summer will be different, that money will be spent, that quality players will be added, and then, BAM, out of nowhere, Mikael Silvestre. That's despair, let me tell you. That's despair with a capital D. And a capital ESPAIR.

It doesn't take much to turn that optimism into whatever the opposite of optimism is (somebody should make a word). A random tweet, a delay of new news for more than a couple of hours, the changing of the wind. All these things can make us face the harsh reality that we'll never sign anyone of worth and that the money is being invested in an elaborate Ponzi scheme by the club's distant Director of Finance, a Mr B Madoff. Whoever he is.

Yet this time it feels a bit different. Whether it's the financial freedom afforded by the new commercial deals which add security, not to mention a massive lump of cash each year, or the pressure on Arsene Wenger to deliver, it just feels like there's something brewing. It's probably a combination of those things, in fairness, but having sailed through some stormy waters, there now some calm for Arsenal to get business done.

The clear-out continues apace. Having already dispensed with Johan Djourou, Denilson and Vito Mannone, the Gunners have also let promising young French midfielder Francis Coquelin go on-loan to Freiburg. Although Bendtner, Chamakh, Park and Santos are still hanging around, there's little doubt they'll be moved on, and when you add Sebastien Squillaci and Andrei Arshavin to the mix, that could bring the number of the departed to 10.

Staying with the nautical imagery, they are well and truly clearing the decks. And let's remember, this is a squad that most people felt unbalanced and not strong enough last season. While some of the players who have gone, or will be made to walk Wenger's plank, contributed little to that season, it's still a massive number to lose in one go.

I don't think Arsenal fans should worry too much about any of them leaving, although perhaps there was a case for keeping Coquelin, the rate and efficiency of the departures surely means that they're making room for the ones coming in.

It looks as if Gonzalo Higuain will complete his move sooner rather than later. Talk of a 23m euros for Lars Bender (along with the loaning of Coquelin) suggests midfield is an area which is going to get a new, defensive arrival, and you could make a strong case for a keeper, another winger and perhaps a centre-half. None of whom, because of the money at hand, have to be found behind a pile of dusty boxes at the outlet store.

- Higuain 'closer' to Arsenal agreement

The Gunners will be working hard right now. Pre-season has already started but there are still just about six weeks until the first Premier League game. The hope has started early this year. By August, with the right arrivals, it'll be a fair wind that blows the good ship Arsenal on course towards battle for the Premier League.

There won't be a Silvestre moment this summer, that's for sure.

ps -- The author reserves the right to slump into despair at any moment for any reason.

pps -- Anyone seen my life-jacket?