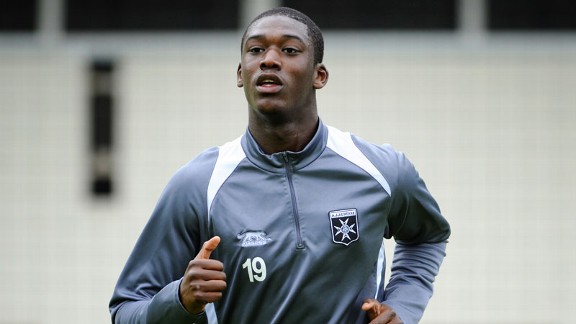 GettyImagesYaya Sanogo looks like a typical Wenger signing -- but don't write him off before he's played a game.
Arsenal fans can finally escape the summer doldrums to some solid transfer news about the club. The signing of Yaya Sanogo is hardly the big name fans are holding out for or the statement of intent to make other teams quake, but at least it's a start.

Sanogo's name has been mentioned in the same sentence as Arsenal numerous times this summer, so his arrival isn't entirely unexpected. Many will view him as a typical Wenger signing -- he's young, French, pacey, cheap (so cheap that he's arriving on a free transfer) and somewhat regrettably has a poor injury record.

There are smacks of Amaury Bischoff about this transfer deal. Bischoff had a similarly dodgy injury record, was signed on a free and only managed a couple of substitute appearances for the first team. Apart from Chu-Young Park, the signing of Bischoff was arguably the strangest Wenger has made at Arsenal.

Yet Sanogo seems to have more about him than the Portuguese midfielder did. At the current Under-20 World Cup, Sanogo has scored twice in the group stages and is likely to appear for France against Turkey on Tuesday. Although he has only appeared as high as Ligue 2 at club level, he has a decent scoring rate for a youngster, which offers an encouraging track record when he has been available to play.

But here lies the problem. If the Frenchman is the only attacking signing Arsenal make, fans will have every right to be critical of Arsenal's transfer dealings. The hope is that Sanogo is the first of a few this summer. Even if Arsenal complete a deal for Gonzalo Higuain, the club will still need some depth and variety to their attacking options. Last season, Olivier Giroud was the only classic centre forward in the squad, making Arsenal seem incredibly limited when he was unavailable. Signing two new players to compete for the position could spur Giroud on to improve his own performances.

If Sanogo's chances in the first team are limited to Capital One Cup appearances or fleeting substitute opportunities, I wouldn't be surprised if he went on loan later in the season. Jack Wilshere and Wojciech Szczesny have shown that such a move can be successful; however fans are more cautious because of what has happened with the likes of Carlos Vela and even Joel Campbell, young strikers signed with an immense amount of potential that was never fulfilled for the Arsenal first team. It could still happen for Campbell, but the signing of Sanogo surely is another obstacle to him breaking into the main Arsenal squad.

Another youngster who could be left in the dark given Sanogo's arrival is Benik Afobe. The English striker was on loan at Bolton Wanderers last season and has appeared for the England Under-21s but has had some horrific luck with injuries. Whilst I haven't seen much of Sanogo in action except for a YouTube compilation (and one of those once made Andre Santos look like Lionel Messi), he appears to be similar to Afobe, making it seem like a straight choice for Arsene Wenger between the two over who will have the greater chance of regularly playing for the Arsenal first team.

Yaya Sanogo shouldn't be the extent of Arsenal's transfer business this summer, and though Arsenal haven't had some great experiences with injury-prone youngsters in recent years, it would be wrong of people to write another one off before he's kicked a ball for the club. Plus his name lends itself to a great chant for supporters, so fans have to hope Yaya Sanogo is a success so his name can be sung around the Emirates before he go-go's.