Djourou adds to Arsenal departure list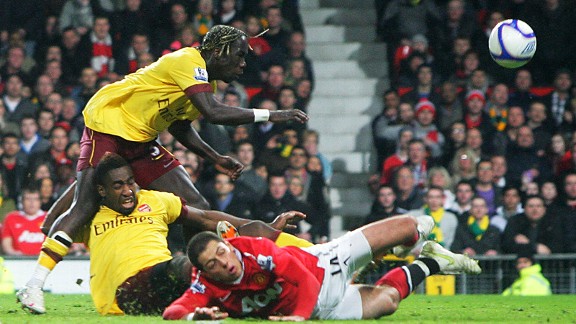 Tom Purslow/Man Utd/Getty ImagesJohan Djourou, bottom left, hurt his shoulder against Manchester United in March 2011. The injury marked the beginning of the end for him at Arsenal.
Arsenal's clearing of the decks continued Monday with the loan of Johan Djourou to Hamburg. The Swiss defender will spend at least this season at the Imtech Arena, and the Bundesliga side have a purchase option that they can exercise should things go well.

For Djourou, it's a chance to re-establish himself as a first-team footballer. It's easy to forget how quickly, and how far, his stock fell at Arsenal. As this Guardian piece from February 2011 highlights, he was an important player before things went wrong. At the time, Cesc Fabregas had said, "With the way we play, we have needed a center back like him: strong, good on the ball, quick, making his presence felt on the opposition's strikers."

-Ardiles: Higuain as good as van Persie

That was absolutely true at the time. I remember that there was a collective sense of dismay when he injured his shoulder against Manchester United in March 2011. There were fears he might be out for a prolonged period. Yet while he escaped serious injury, it's fair to say his career never recovered.

His form slumped. He found himself shunted to right back, and after struggling badly in a home game against Manchester United in January 2012, he suffered the ignominy of being replaced at halftime by an 18-year-old midfielder, Nico Yennaris. After that, Arsene Wenger lost faith, and Per Mertesacker, Thomas Vermaelen and Laurent Koscielny moved ahead of Djourou in the pecking order. In order to play, he had to leave.

It shows how quickly things can change in football. Wenger was a big fan of Djourou, having brought him to the club as a 16-year-old and eased him into first-team football. But sometimes, it's impossible for the player to come back.

So far this summer, all of Arsenal's activity has involved players departing. Andrei Arshavin's and Sebastien Squillaci's contracts expired, Denilson was moved even before the end of his contract, Vito Mannone is about to join Sunderland on a permanent basis and now Djourou has left.

And that list ignores Nicklas Bendtner, who told us three weeks ago that he would be choosing a new club, Andre Santos, who has no future at left back with Kieran Gibbs and Nacho Monreal competing for that position, or the two hapless strikers, Marouane Chamakh and Ju-Young Park, who must be sent elsewhere before the season starts.

As a fan, it's easy to be frustrated at the lack of new arrivals. But as much as the squad needs to be strengthened, the Gunners also needed to rid themselves of players whose contributions were minimal and who had nothing to offer.

It's vital that new faces arrive, but streamlining the squad and making space for a more competitive environment is, arguably, a more difficult task. It's relatively easy to identify a good player who can improve you; it's much more difficult to convince another team that they need to sign an ex-Moroccan international, who has scored only one league goal in two seasons and is on a very healthy salary because of his Bosman deal.

The ins will happen, but it's good to see Arsenal deal with the outs as well.